50 Players, 50 Days: Zak Currie
May 21, 2020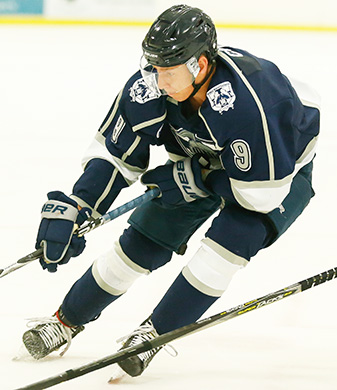 During the current and unforeseen cancelation of the 2019-20 season, the players in the NAHL saw their seasons cut prematurely short. In some cases, players saw their junior hockey careers come to an end as well. However, the NAHL got together a decided to highlight some of those players, who were born in 1999 and were in their final season of playing junior hockey.
As a result, we present a new series entitled: 50 players in 50 days
50 players in 50 days will select 50 players from each of the 26 NAHL teams this past season that were born in 1999, are currently uncommitted, and deserve some recognition during their time spent playing and developing in the NAHL. Over the course of the next 50 days, we will take time out to look at their accomplishments, review their season, and provide some background on their NAHL careers. Players will be initially highlighted in alphabetical order by team. Enjoy!
Zak Currie, Forward, WBS Knights
Wilkes-Barre/Scranton Knights forward
Zak Currie
rose the Ladder of Development to have his career-best season in 2019-20, finishing 3rd in team scoring.
Currie, 20, was one of the offensive leaders for the Knights this past season. The 5'11/175 lbs. native of Grand Rapids, Michigan, posted 38 points (17 goals, 21 assists) in 51 games played. He was named the NAHL's East Division Star of the Week on January 13th.
"Zak is a player you want in your locker room. His play impacted every game and he always found a way to make the big play. When the game is on the line, you want Zak on the ice with the puck on his stick. Zak is a type of player that every NCAA hockey team needs on their roster," said former Knights head coach Tom Kowal.
Currie made his NAHL debut with the Knights during the 2017-18 season, appearing in four games. Currie played that season in the NAPHL with the Meijer AAA 18U team, leading the team in scoring with 22 points in 18 NAPHL games. That also included playing in the 2018 NAPHL 18U All-Star Game.
Currie then spent the 2018-19 season with the Knights in the NAHL, recording 17 points in 58 games played. Overall in his NAHL career, Currie posted 55 points in 113 career games.