50 Players, 50 Days: Warren Natyshak
May 19, 2020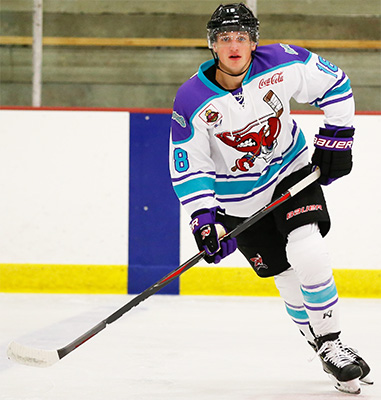 During the current and unforeseen cancelation of the 2019-20 season, the players in the NAHL saw their seasons cut prematurely short. In some cases, players saw their junior hockey careers come to an end as well. However, the NAHL got together a decided to highlight some of those players, who were born in 1999 and were in their final season of playing junior hockey.
As a result, we present a new series entitled: 50 players in 50 days
50 players in 50 days will select 50 players from each of the 26 NAHL teams this past season that were born in 1999, are currently uncommitted, and deserve some recognition during their time spent playing and developing in the NAHL. Over the course of the next 50 days, we will take time out to look at their accomplishments, review their season, and provide some background on their NAHL careers. Players will be initially highlighted in alphabetical order by team. Enjoy!
Warren Natyshak, Forward, Shreveport Mudbugs
Shreveport Mudbugs forward
Warren Natyshak
, 20, had his best career season in 2019-20, which capped off a successful three-year NAHL career in Shreveport.
The 6'2/180 lbs. native of Toledo, Ohio, posted a career best 26 points (11 goals, 15 assists) in 45 games played this past season. That also included a career-best +13 rating.
"Warren is really a full package player. He has good size, skill, skating, shot, and hockey IQ. He can play power play, kill penalties, is a natural centerman, but does a great job on the wing too. Warren has progressively gotten better year to year with his overall game and we know he can contribute at the next level on the ice, off the ice, and in the classroom," said Mudbugs head coach Jason Campbell.
Natyshak made his NAHL debut with the Mudbugs during their Robertson Cup Championship season in 2017-18. He appeared in 22 games and had seven points. In 2018-19, he improved posting 19 points in 52 games played.
Overall in his three-year NAHL career, Natyshak had 52 points in 119 career games played.
Prior to playing in the NAHL, Natyshak played four seasons of high school hockey in Ohio for St. Francis DeSales High.