50 Players, 50 Days: Nick Grimaldi
May 18, 2020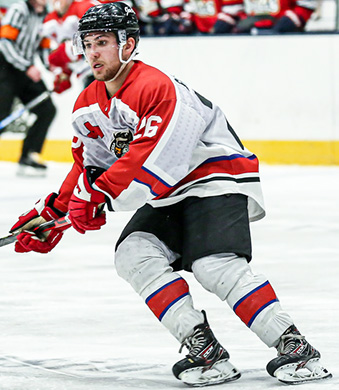 During the current and unforeseen cancelation of the 2019-20 season, the players in the NAHL saw their seasons cut prematurely short. In some cases, players saw their junior hockey careers come to an end as well. However, the NAHL got together a decided to highlight some of those players, who were born in 1999 and were in their final season of playing junior hockey.
As a result, we present a new series entitled: 50 players in 50 days
50 players in 50 days will select 50 players from each of the 26 NAHL teams this past season that were born in 1999, are currently uncommitted, and deserve some recognition during their time spent playing and developing in the NAHL. Over the course of the next 50 days, we will take time out to look at their accomplishments, review their season, and provide some background on their NAHL careers. Players will be initially highlighted in alphabetical order by team. Enjoy!
Nick Grimaldi, Forward, Odessa Jackalopes
Odessa Jackalopes forward Nick Grimaldi, 20, completed a two-year NAHL career, which saw the majority of the 2019-20 spent in Odessa.
The 5'7/170 lbs. native of Plymouth, Michigan, posted four points (2 goals, 2 assists) in 29 games with the Jackalopes during the 2019-20 season. That included a goal in his first-ever game in the Jacks uniform back on November 15th.
Watch: Nick Grimaldi highlights
"Nick is an extremely hard-working player and is a great teammate. He was a key component to our penalty kill this season. He's tenacious on the forecheck and plays much bigger than his size. His hard work, second and third effort on plays resulted in pucks turned over by the opposition. Any school will be happy to have Nick as a member of their community and hockey program," said Jackalopes assistant coach Adam Phillips.
Grimaldi began the season with the Minnesota Magicians, appearing in one game in September. During the 2018-19 season, he split time in the NAHL with the Minnesota Wilderness and then played the majority of the season with the Maryland Black Bears.
Prior to playing in the NAHL, Grimaldi played youth hockey in Michigan for Victory Honda.