50 Players, 50 Days: Ethan Destefani
May 15, 2020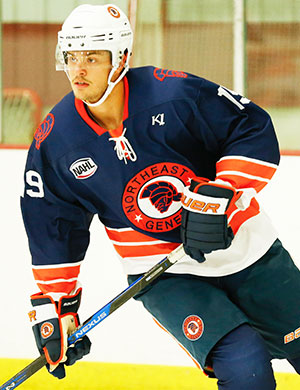 During the current and unforeseen cancelation of the 2019-20 season, the players in the NAHL saw their seasons cut prematurely short. In some cases, players saw their junior hockey careers come to an end as well. However, the NAHL got together a decided to highlight some of those players, who were born in 1999 and were in their final season of playing junior hockey.
As a result, we present a new series entitled: 50 players in 50 days
50 players in 50 days will select 50 players from each of the 26 NAHL teams this past season that were born in 1999, are currently uncommitted, and deserve some recognition during their time spent playing and developing in the NAHL. Over the course of the next 50 days, we will take time out to look at their accomplishments, review their season, and provide some background on their NAHL careers. Players will be initially highlighted in alphabetical order by team. Enjoy!
Ethan Destefani, Forward, Northeast Generals
Northeast Generals forward
Ethan DeStefani
, 21, completed a whirlwind junior career this season, which saw the veteran post his best career numbers.
The 6'3/201 lbs. native of Bedford, New Hampshire, was one of the offensive leaders for the Generals in 2019-20 with 36 points (14 goals, 22 assists) in 50 games played.
"Ethan had a great year for us. As an older player we relied on him a great deal and he delivered. We had an underwhelming start to the year and Ethan was a big part of our turn around. He kept coming to the rink, working hard, and putting up points in games. Ethan has so much skill and it was crazy to watch some of the things he was able to pull off in practice and then in games. And he is 6'3" which made his skill that more impressive. But I think Ethan really improved over the course of the year is he worked hard on his defensive game which showed. He also played all three forward positions for us and was great. He played center for us down the stretch and it really opened up the ice for him," said Generals head coach Bryan Erikson.
"Ethan is a great kid that is a versatile player up front. His 36 points were awesome, but the fact that we were able to rely on him on the Penalty Kill, Power Play, in the face-off circle was huge. I think he would make any NCAA Division 1 Coach very happy with his ability to play anywhere in the lineup. I would love to see him get that chance as I think he would be a great addition for any program," concluded Erikson.
Destefani began his NAHL career with the Minnesota Magicians in 2017-18, recording 31 points in 53 games played. That season also saw him commit to play NCAA Division 1 hockey for Merrimack College. Overall in 103 career NAHL games, Destefani recorded 67 points.
In 2018-19, Destefani played four games for Merrimack followed by a stint in the USHL with Youngstown.