50 Players, 50 Days: Kevin Ness
May 14, 2020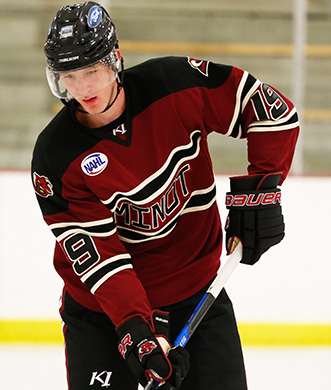 During the current and unforeseen cancelation of the 2019-20 season, the players in the NAHL saw their seasons cut prematurely short. In some cases, players saw their junior hockey careers come to an end as well. However, the NAHL got together a decided to highlight some of those players, who were born in 1999 and were in their final season of playing junior hockey.
As a result, we present a new series entitled: 50 players in 50 days
50 players in 50 days will select 50 players from each of the 26 NAHL teams this past season that were born in 1999, are currently uncommitted, and deserve some recognition during their time spent playing and developing in the NAHL. Over the course of the next 50 days, we will take time out to look at their accomplishments, review their season, and provide some background on their NAHL careers. Players will be initially highlighted in alphabetical order by team. Enjoy!
Kevin Ness, Forward, Minot Minotauros
Minot Minotauros forward
Kevin Ness
, 20, completed a successful three-year NAHL career as he rose the Ladder of Development, which resulted in his best career season in 2019-20.
The 6'4/200 lbs. native of Broomfield, Colorado, posted career-highs during his final NAHL season, putting up 31 points (10 goals, 21 assists) in 46 games with the Minotauros this past season.
This came on the heels of a productive 2018-19 season with the Minotauros, where Ness posted 10 points in 37 games played.
"Kevin has been a huge asset to our program for the last two years. He's played in every role from penalty kill to our power play. One of his best qualities is his work ethic. For practice he is always the one the first on and one of the last off the ice. He is constantly working on getting better. He's a big forward that can play a power game and has sneaky good hands that helps in front of the net," said Minot head coach Shane Wagner.
Ness made his NAHL debut during the 2016-17 season with the Bismarck Bobcats. He finishes he NAHL career with 46 points in 124 career games.
Prior to playing in the NAHL, Ness spent two seasons playing in the NAPHL for the Rocky Mountain RoughRiders 18U and 16U teams. He appeared in the 2018 NAPHL 18U All-Star Game and in 43 career NAPHL games, Ness posted 29 points.