50 Players, 50 Days: Garrett Worth
May 13, 2020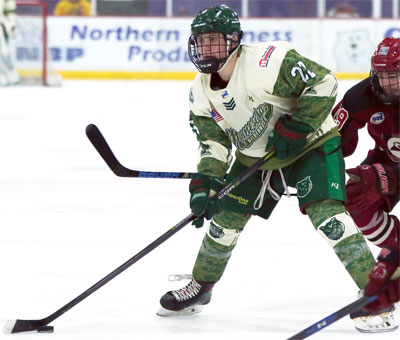 During the current and unforeseen cancelation of the 2019-20 season, the players in the NAHL saw their seasons cut prematurely short. In some cases, players saw their junior hockey careers come to an end as well. However, the NAHL got together a decided to highlight some of those players, who were born in 1999 and were in their final season of playing junior hockey.
As a result, we present a new series entitled: 50 players in 50 days
50 players in 50 days will select 50 players from each of the 26 NAHL teams this past season that were born in 1999, are currently uncommitted, and deserve some recognition during their time spent playing and developing in the NAHL. Over the course of the next 50 days, we will take time out to look at their accomplishments, review their season, and provide some background on their NAHL careers. Players will be initially highlighted in alphabetical order by team. Enjoy!
Garrett Worth, Forward, Minnesota Wilderness
Minnesota Wilderness forward
Garrett Worth
, 20, completed a successful junior career this season, which included two separate stops in the NAHL with the Wilderness.
The 5'10/176 lbs. native of Duluth, Minnesota, originally joined the Wilderness in November of 2017 while he was still playing high school hockey in Minnesota for Duluth East High. Worth scored a goal and had an assist in his NAHL debut and would later join the Wilderness in the Spring of 2018 once his high school season was completed. During his senior season at Duluth East, Worth led the Greyhounds to the Class AA State Championship Game.
Worth began the 2019-20 season with the Des Moines Buccaneers in the USHL, but then joined the Wilderness in November and instantly found his scoring touch, recording eight points in his first eight games of the season.
Worth remained as one of the Wilderness' scoring leaders during the season with 25 points in 28 games played.
"Garrett is a tremendously talented young player with a natural goal scoring touch around the net. He is a great skater as would be expected with a northern Minnesota player. He has excellent hockey sense and smarts to find open ice but is equally patience with the puck. He will be an instant impact on any NCAA roster next season," said Wilderness head coach Jon Vaillancourt.
Worth appeared in 116 career games with Duluth East and recorded 141 career points, finishing his career as one of the best players in the program's history.