50 Players, 50 Days: Aaron Swanson
May 12, 2020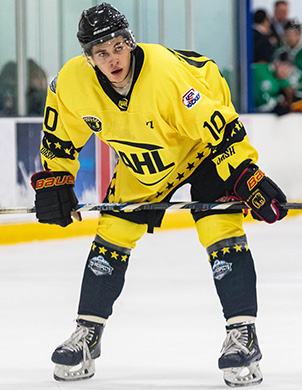 During the current and unforeseen cancelation of the 2019-20 season, the players in the NAHL saw their seasons cut prematurely short. In some cases, players saw their junior hockey careers come to an end as well. However, the NAHL got together a decided to highlight some of those players, who were born in 1999 and were in their final season of playing junior hockey.
As a result, we present a new series entitled: 50 players in 50 days
50 players in 50 days will select 50 players from each of the 26 NAHL teams this past season that were born in 1999, are currently uncommitted, and deserve some recognition during their time spent playing and developing in the NAHL. Over the course of the next 50 days, we will take time out to look at their accomplishments, review their season, and provide some background on their NAHL careers. Players will be initially highlighted in alphabetical order by team. Enjoy!
Aaron Swanson, Forward, Maryland Black Bears
Maryland Black Bears forward
Aaron Swanson
, 21, completed a successful career in the NAHL, which also him climb the ladder of development dating all the way back to the NAPHL during the 2014-15 season.
The 5'10/175 lbs. native on Sun Prairie, Wisconsin, played three seasons in the NAHL, the majority of which was with the Springfield Jr. Blues. Swanson started the 2019-20 season with the Jr. Blues, posting 21 points in 31 games. During the trade deadline, Swanson was traded to Maryland, who were contending for a playoff position in the East Division. While with the Black Bears, Swanson had nine points in 12 games played.
He was also selected to and played in the 2020 NAHL Top Prospects Tournament for the Midwest Division team.
"Aaron is the consummate professional, on and off the ice. He has ivy league academics and understands what it takes to be a student-athlete. He competes every time he steps onto the ice and works on his game the right way. He is also an ultra-competitor, and never needs to be reminded to bring the physical component to the game. He has very good skill; is hard to play against; and is a guy that any coach would love to have in their lineup. He just makes your team better. Any school would be lucky to have this kid in their locker room and on their campus," said Black Bears head coach Clint Mylymok.
Swanson made his NAHL debut with the Amarillo Bulls during the 2017-18 season and also spent some time that season with the North Iowa Bulls in the NA3HL. He then began the 2018-19 season with the Bulls and was later traded to Springfield. In 109 career NAHL Games, Swanson recorded 57 points.
Prior to his time in the NAHL, Swanson played three seasons in the NAPHL, all for the Madison Capitols. In 65 career NAPHL games, Swanson recorded 57 points.