50 Players, 50 Days: Trent Grimshaw
May 11, 2020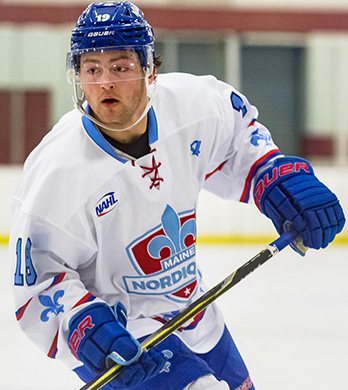 During the current and unforeseen cancelation of the 2019-20 season, the players in the NAHL saw their seasons cut prematurely short. In some cases, players saw their junior hockey careers come to an end as well. However, the NAHL got together a decided to highlight some of those players, who were born in 1999 and were in their final season of playing junior hockey.
As a result, we present a new series entitled: 50 players in 50 days
50 players in 50 days will select 50 players from each of the 26 NAHL teams this past season that were born in 1999, are currently uncommitted, and deserve some recognition during their time spent playing and developing in the NAHL. Over the course of the next 50 days, we will take time out to look at their accomplishments, review their season, and provide some background on their NAHL careers. Players will be initially highlighted in alphabetical order by team. Enjoy!
Trent Grimshaw, Forward, Maine Nordiques
Maine Nordiques forward
Trent Grimshaw
, 21, made his final junior season count as he was one of the offensive leaders for the Nordiques in 2019-20.
The 5'8/170 lbs. native of Saline, Michigan, was 6th in team scoring this past season with 31 points in 49 games played. Most importantly, Grimshaw could light the lamp and was 2nd on the team with 22 goals this past season.
"Trent always brought about a calm sense to him but could throw the body around when the time came. Trent's speed and ice awareness found himself in a lot of high quality scoring spaces on the ice and converted. Trent was also key on the power play as he tallied 11 power play goals and was loved by Nordique Nation," said Nordiques head coach Nolan Howe.
Grimshaw made his NAHL debut during the 2018-19 season with the Brooking Blizzard, appearing in five games to begin the season.
Prior to playing in the NAHL, Grimshaw played youth hockey for Victory Honda and Compuware in Michigan.