50 Players, 50 Days: Evan Googins
May 8, 2020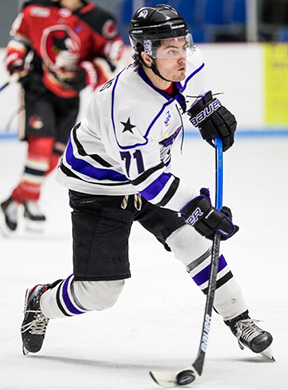 During the current and unforeseen cancelation of the 2019-20 season, the players in the NAHL saw their seasons cut prematurely short. In some cases, players saw their junior hockey careers come to an end as well. However, the NAHL got together a decided to highlight some of those players, who were born in 1999 and were in their final season of playing junior hockey.
As a result, we present a new series entitled: 50 players in 50 days
50 players in 50 days will select 50 players from each of the 26 NAHL teams this past season that were born in 1999, are currently uncommitted, and deserve some recognition during their time spent playing and developing in the NAHL. Over the course of the next 50 days, we will take time out to look at their accomplishments, review their season, and provide some background on their NAHL careers. Players will be initially highlighted in alphabetical order by team. Enjoy!
Evan Googins, Forward, Lone Star Brahmas
Lone Star Brahmas forward
Evan Googins
, 21, made his only season in the NAHL count in 2019-20 with some impressive offensive numbers.
The 5'11/190 lbs. native of Braintree, Massachusetts, began the season with the defending Robertson Cup Champion Aberdeen Wings, recording a respectable five points in his first 12 NAHL games.
Following a trade to Lone Star in November, Googins continued to thrive with the Brahmas, which included 19 points in 32 games played for the remainder of the season. His best stretch of the season came in November when he had nine points, including his first career NAHL hat-trick. His 17 total goals this past season ranked 5th in the Brahmas line-up.
"Evan is always working hard on and off the ice and gives you everything he has got every night. He has an unbelievable shot and we believe he is a Division 1 caliber type player. He can put the puck in the net, which is something any NCAA program should be interested in," said Brahmas head coach Dan Wildfong.
Prior to playing junior hockey, Googins spent three seasons playing at Thayer Academy.