50 Players, 50 Days: Landon Pavlisin
May 7, 2020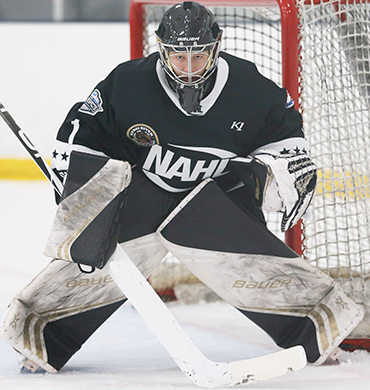 During the current and unforeseen cancelation of the 2019-20 season, the players in the NAHL saw their seasons cut prematurely short. In some cases, players saw their junior hockey careers come to an end as well. However, the NAHL got together a decided to highlight some of those players, who were born in 1999 and were in their final season of playing junior hockey.
As a result, we present a new series entitled: 50 players in 50 days
50 players in 50 days will select 50 players from each of the 26 NAHL teams this past season that were born in 1999, are currently uncommitted, and deserve some recognition during their time spent playing and developing in the NAHL. Over the course of the next 50 days, we will take time out to look at their accomplishments, review their season, and provide some background on their NAHL careers. Players will be initially highlighted in alphabetical order by team. Enjoy!
Landon Pavlisin, Goaltender, Kenai River Brown Bears
One of the busiest goalies in the NAHL this past season was Kenai River Brown Bears and Top Prospects netminder
Landon Pavlisin
. The 20-year-old from Orange, California, backstopped the resurgent Brown Bears to what was going to be a spot in the Robertson Cup Playoffs during the 2019-20 season, along with putting up some solid numbers while facing a barrage of shots.
Pavlisin (6'0/170) ended up facing the most shots of any NAHL netminder this past season, facing 1,373 shots in all in 41 games played. Pavlisin also tied for the league lead in games played with 41 and was 2nd in minutes played with 2,342. He also ended up 3rd in the league in wins with a 23-12-4 record to go along with a 3.13 goals against average and a .911 save percentage.
Pavlisin won the Midwest Division's Star of the Week three times this season in October, November, and March.
For his efforts he was selected to and played in the 2020 NAHL Top Prospects Tournament, helping the Central Division to an undefeated record at the event.
"Landon was a work horse our team this past season, playing in 41 games for us. He was a big reason for our success this season and provided a veteran influence with the stability and consistency he was able to provide for our team," said Brown Bears head coach Kevin Murdock.
Pavlisin had previous experience playing junior hockey in Canada and played his youth hockey in California for the Anaheim Jr. Ducks.