50 Players, 50 Days: Brendan Blair
May 6, 2020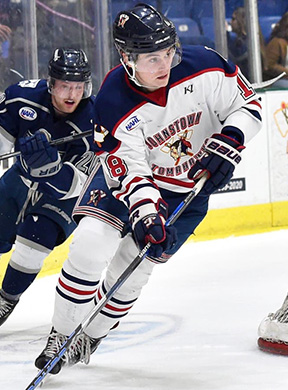 During the current and unforeseen cancelation of the 2019-20 season, the players in the NAHL saw their seasons cut prematurely short. In some cases, players saw their junior hockey careers come to an end as well. However, the NAHL got together a decided to highlight some of those players, who were born in 1999 and were in their final season of playing junior hockey.
As a result, we present a new series entitled: 50 players in 50 days
50 players in 50 days will select 50 players from each of the 26 NAHL teams this past season that were born in 1999, are currently uncommitted, and deserve some recognition during their time spent playing and developing in the NAHL. Over the course of the next 50 days, we will take time out to look at their accomplishments, review their season, and provide some background on their NAHL careers. Players will be initially highlighted in alphabetical order by team. Enjoy!
Brendan Blair, Defenseman, Johnstown Tomahawks
Johnstown Tomahawks defenseman
Brendan Blair
, 21, completed his final season in the NAHL that ended with a successful campaign with the Tomahawks.
The 6'1/185 lbs. native of Fenton, Missouri, began the 2019-20 season with the Amarillo Bulls and was traded to Johnstown in mid-November. While with the Tomahawks, Blair thrived, recording 12 points (4 goals, 8 assists) in 29 games with Johnstown.
"Brendan was a great acquisition for us in November. We had familiarity with him so bringing him to Johnstown we felt would not only help us on the ice, but off the ice as well. Brendan delivered in both ways. He played fantastic for us in all situations and was an outstanding citizen in our community earning our team's Humanitarian of the Year Award. He is one of those guys that as a coach you wish you could have every year because of what he means to the team both on and off the ice," said Tomahawks head coach Mike Letizia.
Prior to playing junior hockey, Blair took the Ladder of Development pathway from the NAPHL and ultimately landed in the NAHL this season.
Blair played in the NAPHL for two seasons for the St. Louis Selects (now CarShield AAA) in 2015-16 and 2016-17. In 40 career NAPHL games at the 16U and 18U levels for St. Louis, Blair recorded 14 points.