50 Players, 50 Days: Nick Michel
May 5, 2020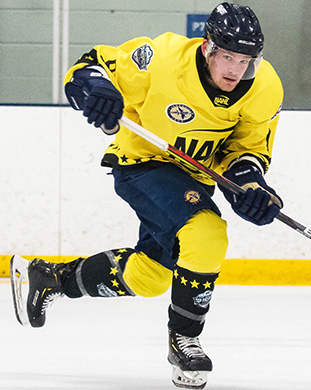 During the current and unforeseen cancelation of the 2019-20 season, the players in the NAHL saw their seasons cut prematurely short. In some cases, players saw their junior hockey careers come to an end as well. However, the NAHL got together a decided to highlight some of those players, who were born in 1999 and were in their final season of playing junior hockey.
As a result, we present a new series entitled: 50 players in 50 days
50 players in 50 days will select 50 players from each of the 26 NAHL teams this past season that were born in 1999, are currently uncommitted, and deserve some recognition during their time spent playing and developing in the NAHL. Over the course of the next 50 days, we will take time out to look at their accomplishments, review their season, and provide some background on their NAHL careers. Players will be initially highlighted in alphabetical order by team. Enjoy!
Nick Michel, Forward, Janesville Jets
Janesville Jets forward
Nick Michel
, 21, made the most of his time with the Jets in 2019-20. The 5'10/181 lbs. native of Waconia, Minnesota, was out the first part of the season due to injury, but made his season debut in November. In 32 games with the Jets this past season Michel had 14 points (7 goals, 7 assists)
He was also selected to and played in the 2020 NAHL Top Prospects Tournament for the Midwest Division team.
"Nick was a tremendous pick up for us after he missed the start of the season, he brought leadership to our young team. Nick worked his butt off this past year and half to play his last season after a serious injury. He proved he can play and battle through adversity, I hope a D1 team takes a chance on him. Not only as a hockey player but person," said Jets head coach Corey Leivermann.
Michel made his NAHL debut with the Minnesota Wilderness during the 2017-18 season, when he posted 23 points in 52 games played.
Overall in 84 career NAHL games, Michel posted 37 points.
Prior to playing in the NAHL, Michel played high school hockey in Minnesota for Holy Family Catholic.