50 Players, 50 Days: Jaden Shields
April 29, 2020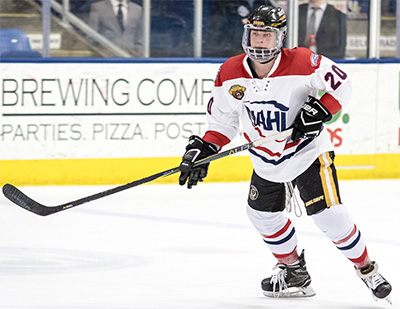 During the current and unforeseen cancelation of the 2019-20 season, the players in the NAHL saw their seasons cut prematurely short. In some cases, players saw their junior hockey careers come to an end as well. However, the NAHL got together a decided to highlight some of those players, who were born in 1999 and were in their final season of playing junior hockey.
As a result, we present a new series entitled: 50 players in 50 days
50 players in 50 days will select 50 players from each of the 26 NAHL teams this past season that were born in 1999, are currently uncommitted, and deserve some recognition during their time spent playing and developing in the NAHL. Over the course of the next 50 days, we will take time out to look at their accomplishments, review their season, and provide some background on their NAHL careers. Players will be initially highlighted in alphabetical order by team. Enjoy!
Jaden Shields, Defenseman, Austin Bruins
Austin Bruins veteran defenseman Jaden Shields, 20, just completed a successful four years of junior hockey. The 5'11/190 lbs. native of Royal Oak, Michigan, put up more good numbers during the 2019-20 season, recording 25 points (4 goals, 21 assists) from the blueline in 45 games played.
Shields was also selected to and played in the 2020 NAHL Top Prospects Tournament, his second appearance in the event.
Watch: Jaden Shields highlights
"Jaden has really grown as a player and a person over his four years of junior hockey. He is a very driven player that is always wanting to get better through extra ice and video. He is a well-rounded defenseman that can play in all situations and he will be a big asset to any NCAA program," said Austin head coach Steve Howard.
Shields first full season with the Bruins was in 2016-17, when he appeared in 43 games and had 12 points as a rookie. The next season was Shields' breakout year as he posted 29 points in 57 games played. He was also selected to and played in the 2018 NAHL Top Prospects Tournament for the Selects White team.
Shields spent the 2018-19 campaign in the USHL before returning to Austin as an assistant captain this past season. In 147 career NAHL games, Shields posted 66 points.
Prior to playing junior hockey, Shields played his youth hockey for the Little Caesars AAA program in Michigan.