50 Players, 50 Days: Aaron White
April 28, 2020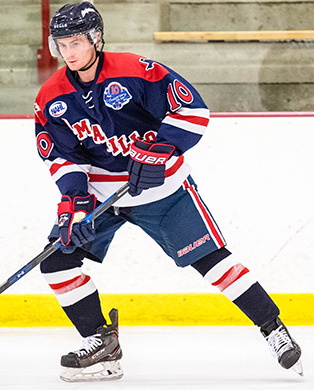 During the current and unforeseen cancelation of the 2019-20 season, the players in the NAHL saw their seasons cut prematurely short. In some cases, players saw their junior hockey careers come to an end as well. However, the NAHL got together a decided to highlight some of those players, who were born in 1999 and were in their final season of playing junior hockey.
As a result, we present a new series entitled: 50 players in 50 days
50 players in 50 days will select 50 players from each of the 26 NAHL teams this past season that were born in 1999, are currently uncommitted, and deserve some recognition during their time spent playing and developing in the NAHL. Over the course of the next 50 days, we will take time out to look at their accomplishments, review their season, and provide some background on their NAHL careers. Players will be initially highlighted in alphabetical order by team. Enjoy!
Aaron White, Forward, Amarillo Bulls
Amarillo Bulls forward
Aaron White
, 20, made the most of his lone season in the NAHL in 2019-20. The 5'10/175 lbs. native of Toledo, Ohio, played in 48 games this past season and recorded 30 points (9 goals, 21 assists).
"Aaron was such an important part of our success this season. As a junior hockey veteran he brought a level of professionalism and leadership to a young team that was invaluable able for our group. He was a key contributor in all situations, playing on our power play, killing penalties, and playing a Top 6, 5 on 5 role. His character and maturity were extremely valuable to us and he will be a tremendous asset to whichever NCAA program gives him an opportunity," said Bulls head coach Rocky Russo.
White's best stretch of the season came back on December 6-7 when the Bulls posted a road sweep in Odessa. White had three goals and three assists for six points during the two wins.
Prior to playing in the NAHL, White had stops in the USHL with Omaha and Madison. He played youth hockey in Michigan for the Oakland Jr. Grizzlies, Victory Honda and Compuware.