50 Players, 50 Days: Johnny Kaljian
April 27, 2020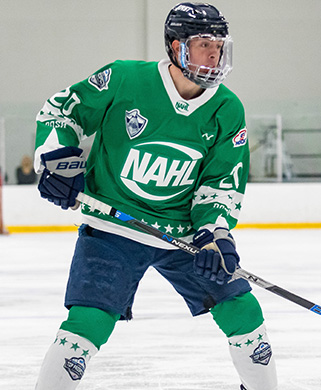 During the current and unforeseen cancelation of the 2019-20 season, the players in the NAHL saw their seasons cut prematurely short. In some cases, players saw their junior hockey careers come to an end as well. However, the NAHL got together a decided to highlight some of those players, who were born in 1999 and were in their final season of playing junior hockey.
As a result, we present a new series entitled: 50 players in 50 days
50 players in 50 days will select 50 players from each of the 26 NAHL teams this past season that were born in 1999, are currently uncommitted, and deserve some recognition during their time spent playing and developing in the NAHL. Over the course of the next 50 days, we will take time out to look at their accomplishments, review their season, and provide some background on their NAHL careers. Players will be initially highlighted in alphabetical order by team. Enjoy!
Johnny Kaljian, Forward, WBS Knights
WBS Knights forward
Johnny Kaljian
, 20, took a huge stride in his final season of playing junior hockey in the NAHL. The 6'2/201 lbs. native of Northville, Michigan, put up some big numbers during the 2019-20 season for the Knights, as he finished 4th in team scoring with 37 points in 53 games played.
Kaljian's 17 goals during the season were tied for 2nd on the roster and also a career-high. For his efforts, Kaljian was selected to and played in the 2020 NAHL Top Prospects Tournament for the East Division team, where he had a very positive and productive showing, scoring a goal and adding an assist in the two games.
"Johnny was a leader and a player that can play in every situation of the game. He came to the rink everyday wanted to be the best player on the ice. He has raised his level of play and will be an impact player in NCAA hockey from Day 1," said Knights head coach Tom Kowal.
Kaljian broke into the NAHL during the 2018-19 season with the Brookings Blizzard. During the midway point of last season he was traded to the Knights.
Overall in 99 career NAHL games, Kaljian has recorded 54 points.
Prior to playing in the NAHL, Kaljian played youth hockey for the Belle Tire organization in Michigan.