50 Players, 50 Days: Luke Aquaro
April 23, 2020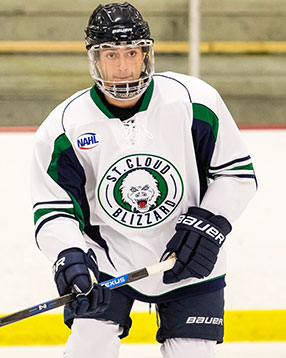 During the current and unforeseen cancelation of the 2019-20 season, the players in the NAHL saw their seasons cut prematurely short. In some cases, players saw their junior hockey careers come to an end as well. However, the NAHL got together a decided to highlight some of those players, who were born in 1999 and were in their final season of playing junior hockey.
As a result, we present a new series entitled: 50 players in 50 days
50 players in 50 days will select 50 players from each of the 26 NAHL teams this past season that were born in 1999, are currently uncommitted, and deserve some recognition during their time spent playing and developing in the NAHL. Over the course of the next 50 days, we will take time out to look at their accomplishments, review their season, and provide some background on their NAHL careers. Players will be initially highlighted in alphabetical order by team. Enjoy!
Luke Aquaro, Forward, St. Cloud Blizzard
While the Blizzard have had a recent influx of NCAA commitments, which includes all of the 1999-born players on their 2019-20 roster, the league still wanted to highlight a player from the team that is yet uncommitted.
With that said, we feature 19-year-old forward
Luke Aquaro
, who just finished his second season in the NAHL playing for the Blizzard.
The 5'10/170 lbs. native of Yardley, Pennsylvania, finished 2nd in team scoring during the 2019-20 season with 35 points in 51 games played, which included a team-leading 16 goals.
"Luke was a leader for us this past season, on the ice and in the community. We are extremely excited to have him back to help lead our team again. We look forward to seeing what the future holds for Luke and the Blizzard in the upcoming season," said St. Cloud assistant coach Casey Mignone.
Over the course of two seasons with the Blizzard, Aquaro has put up some very solid numbers, posting 56 points in 99 career games played.
Prior to playing in the NAHL, Aquaro played youth hockey for the Philadelphia Jr. Flyers.