50 Players, 50 Days: Richie Parent
April 21, 2020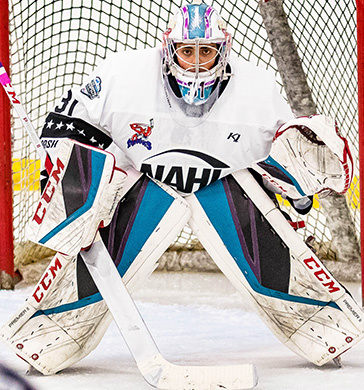 During the current and unforeseen cancelation of the 2019-20 season, the players in the NAHL saw their seasons cut prematurely short. In some cases, players saw their junior hockey careers come to an end as well. However, the NAHL got together a decided to highlight some of those players, who were born in 1999 and were in their final season of playing junior hockey.
As a result, we present a new series entitled: 50 players in 50 days
50 players in 50 days will select 50 players from each of the 26 NAHL teams this past season that were born in 1999, are currently uncommitted, and deserve some recognition during their time spent playing and developing in the NAHL. Over the course of the next 50 days, we will take time out to look at their accomplishments, review their season, and provide some background on their NAHL careers. Players will be initially highlighted in alphabetical order by team. Enjoy!
Richie Parent, Goaltender, Shreveport Mudbugs
Shreveport Mudbugs and Top Prospects goaltender
Richie Parent
, 20, made his final season in the NAHL count with some eye-popping numbers.
The 6'1/174 lbs. native of Montreal, Quebec, was part of a very good goaltending tandem in Shreveport, which helped the Mudbugs clinch a spot in the Robertson Cup Playoffs before the season was canceled. In 28 appearances during the 2019-20 season, Parent posted a 16-10-0 record with a 1.93 goals against average and a .928 save percentage to go along with four shutouts.
Parent ranked 5th in save percentage and 6th in goals against average this season. He was also selected to and played in the 2020 NAHL Top Prospects Tournament for the South Division team.
Parent was named the NAHL's Goalie of the Month back in November of this past season, giving up just two goals in three wins in November. "I think playing on the road is a little easier for me. There are less distractions and has really helped the team bond and develop some good chemistry. I have gotten great support from my teammates and they are doing the little things to make me successful," said Parent in November. "I have a great relationship with our other goalie Maiszon Balboa and we push each other to get better every day, be it in practice and in games. He is a great person and friend and we have made one another better. Hopefully will come the opportunity to play NCAA and pro hockey."
"Richie has had a season full of success and hard work. Most importantly though Richie's mental toughness was his key to success. He finished last season by getting a shutout in his league's Championship game and carried that momentum and experience into this season. His lateral movement and ability to find pucks through traffic gave us an opportunity to win every game. Not only has Richie put the time in to be a top performer on the ice but he does exceptionally well in the classroom too. There are a lot of quality goalies in the NAHL and Richie competed with them all year," said Mudbugs head coach Jason Campbell.
Parent made his NAHL debut during the 2018-19 season with the Mudbugs, appearing in four games.