50 Players, 50 Days: Philip Ekberg
April 16, 2020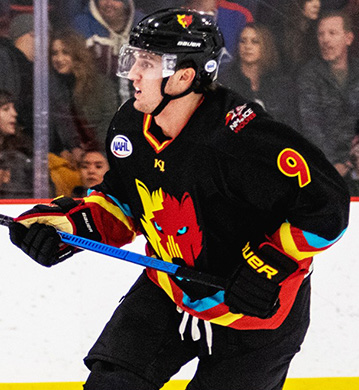 During the current and unforeseen cancelation of the 2019-20 season, the players in the NAHL saw their seasons cut prematurely short. In some cases, players saw their junior hockey careers come to an end as well. However, the NAHL got together a decided to highlight some of those players, who were born in 1999 and were in their final season of playing junior hockey.
As a result, we present a new series entitled: 50 players in 50 days
50 players in 50 days will select 50 players from each of the 26 NAHL teams this past season that were born in 1999, are currently uncommitted, and deserve some recognition during their time spent playing and developing in the NAHL. Over the course of the next 50 days, we will take time out to look at their accomplishments, review their season, and provide some background on their NAHL careers. Players will be initially highlighted in alphabetical order by team. Enjoy!
Philip Ekberg, Forward, New Mexico Ice Wolves
In his first season in the NAHL, New Mexico Ice Wolves forward
Philip Ekberg
, 20, thrived with the first-year Ice Wolves. The 6'1/201 lbs. native of Goteborg, Sweden, was one of New Mexico's most efficient scorers during the 2019-20 season with 16 points (10 goals, 6 assists) in 30 games played.
Ekberg began the season with the Maryland Black Bears and was later traded to New Mexico in October. His 17 points overall this season was good for 4th in team scoring.
"Philip is a big strong power forward. He plays physical and gets into the hard areas. He has an off the charts shot and release. He can score from anywhere," said New Mexico head coach Phil Fox. "Philip is a great teammate and worked hard for us all year. When we acquired him, he had an immediate impact with our team and set a great example for our younger guys."
Previously, Ekberg played junior hockey in Sweden with Frolunda HC, where he also played his youth hockey.