Johnstown forward Kharin makes NCAA commitment
April 16, 2020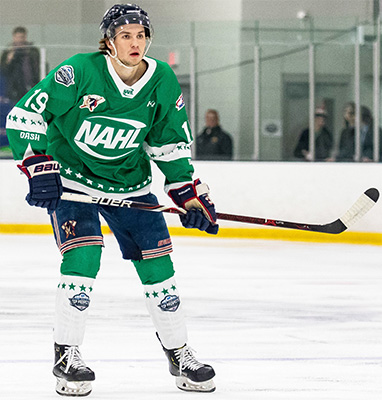 The Johnstown Tomahawks, proud members of the North American Hockey League (NAHL), are pleased to announce that Top Prospects forward and Assistant Captain
Pavel Kharin
has committed to play NCAA Division III hockey for the Plattsburgh State Cardinals of the SUNYAC conference.
Kharin, 21, recently completed a great three-year junior career in Johnstown. He first joined the Tomahawks during the 2017-18 season as a free agent. It was from then on that he adhered himself to the coaching staff, teammates, and fans with his relentless work ethic and tenacious play.
In addition, the 6'1/190 lbs. native of Ypsilanti, Michigan improved his offensive production each season in the league which led to a career-highs in goals, assists, and points in his final season during the 2019-20 shortened campaign. Kharin was also named to the 2020 NAHL East Division Top Prospects team where he represented the Tomahawks. During the two games in Attleboro, Massachusetts, he recorded a goal and an assist to help the East Division team to a 2-0 record.
158 career games over the course of three seasons, Kharin recorded 46 points.
"There are no secrets what Pav has meant to our team during his time in Johnstown," said head coach Mike Letizia. "His play was instrumental to our success. He was the league's best penalty killer, he scored huge goals for us, he was great on face offs, he played all 200 feet of the ice, and was the guy we wanted on the ice when a game was on the line. The list could go on and on as to how important he was. His work ethic was unmatched, and the respect he had across the league was remarkable. To have the consistency day in and day out that he had is something that is almost impossible. I have made this statement more than a few times now but to me Pav is an irreplaceable player, and I would take him on my team every single year if I could. We were truly lucky to have him in Johnstown for his junior career."
Kharin will join Tomahawk alumni and former teammates Joe Kile and Mitchell Hale at Plattsburgh. The trio was a part of the 2018-2019 NAHL East Division championship team.
"I'm super excited to be joining a great program with Plattsburgh State University and meeting up with old teammates Joe Kile and Mitch Hale," said Kharin. "I cannot say thank you enough to my teammates, coaches, and all of the fans who have supported me during my time as a Tomahawk. I will never forget my time in Johnstown and am forever thankful for this opportunity that has been opened up for me."
Plattsburgh State, located in Plattsburgh, New York, is led by head coach Steve Moffat. In 2001, the program won the NCAA Division 3 National Championship.