50 Players, 50 Days: Shane Haviland
April 15, 2020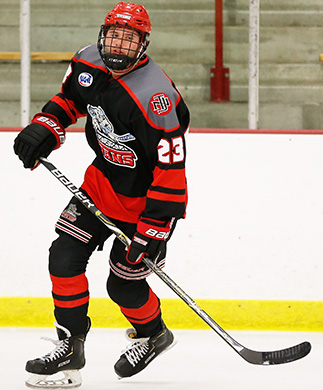 During the current and unforeseen cancelation of the 2019-20 season, the players in the NAHL saw their seasons cut prematurely short. In some cases, players saw their junior hockey careers come to an end as well. However, the NAHL got together a decided to highlight some of those players, who were born in 1999 and were in their final season of playing junior hockey.
As a result, we present a new series entitled: 50 players in 50 days
50 players in 50 days will select 50 players from each of the 26 NAHL teams this past season that were born in 1999, are currently uncommitted, and deserve some recognition during their time spent playing and developing in the NAHL. Over the course of the next 50 days, we will take time out to look at their accomplishments, review their season, and provide some background on their NAHL careers. Players will be initially highlighted in alphabetical order by team. Enjoy!
Shane Haviland, Forward, New Jersey Titans
New Jersey Titans forward and NAPHL grad
Shane Haviland
, 20, just completed a very successful junior career that saw him play three full seasons in the NAHL following his Ladder of Development in the NAPHL.
The 6'0/185 lbs. native of Sea Girt, New Jersey, had a career-best year in 2019-20 for the 1st place Titans as he recorded 33 points (8 goals, 25 assists) in 46 games played. Three of his eight goals this season were game-winners.
Haviland made his NAHL debut during the 2017-18 season with the Springfield Jr. Blues. Over the course of three season with New Jersey and Springfield, Haviland appeared in 127 career NAHL games and recorded 53 career points.
"Shane had an excellent career as a New Jersey Titan. Going back as far as his success with the youth and midget program and then ultimately finishing on the North American Hockey League team. Shane's vision and ability in the offensive zone were an asset to our club. He was part of a very deep collection of forwards. He is going to make a huge difference for an NCAA hockey program," said Titans head coach Craig Doremus.
Prior to playing in the NAHL, Haviland played in the NAPHL for three seasons for the successful New Jersey Jr. Titans program, playing with the 18U team during the 2016-17 season and the 16U team during the 2014-15 and 2015-16 seasons.
Overall in 49 career NAPHL games, Haviland recorded 33 points.