Fairbanks forward Koethe makes NCAA D1 commitment
April 9, 2020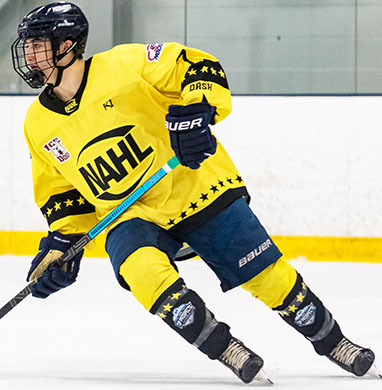 By Danny Martin, News-Miner
The Fairbanks Ice Dogs of the North American Hockey League (NAHL) are pleased to announce that Top Prospects forward Matt Koethe has committed to play NCAA Division 1 hockey for the University of Alaska-Fairbanks in the WCHA.
Friendships are a reason for Koethe committing to the University of Alaska Fairbanks. Koethe will be a Nanooks teammate with current Ice Dogs players, and he'll be playing against WCHA opponents whose rosters will include current Ice Dogs.
"Obviously, having guys move up (to college hockey) with you is a pretty special thing," Koethe said by phone, one day after he announced on Twitter his commitment to UAF's NCAA Division I program.
"Woodsie (defenseman Trenton Woods) is coming in next year (2020-21) and I know (forward Mason) Plante is committed (to UAF). So that's a really special thing to have in common. "And playing against your buddies ... to me one of the best things in the game is to make friends. To know I'll see those faces down the road is really special."
Koethe, 20, from Minnetonka, Minnesota, provided 21 goals and 30 assists for 51 points in 52 games for the Ice Dogs, who were atop the Midwest Division standings when the NAHL season was canceled. He was also selected to and played in the 2020 NAHL Top Prospects Tournament for the Midwest Division team.
In his two-year NAHL career with Fairbanks, Koethe appeared in 111 games and recorded 87 points.
Ice Dogs head coach Trevor Stewart said that UAF head coach Erik Largen and his staff were impressed by Koethe's speed and compete level. "He's definitely one of the faster players in the league (NAHL)," Stewart said. "He's pretty adaptable to play up and down the lineup, so they're going to be able to see a lot of value and being able to put him in a lot of situations."
Koethe also was impressed with Largen. "I was just looking at the progress he's made in the two years he's been there (as head coach)," Koetie said. "He's turning the program around, obviously. I like the intensity he brings, plus he's a really good coach. I just love playing the game, and I guess I was taught to play the game hard every time I hit the ice. I like winning, so working as hard as you can usually brings success."
Click here for an updated NAHL to NCAA commitment list