50 Players, 50 Days: Cole Ouellette
April 8, 2020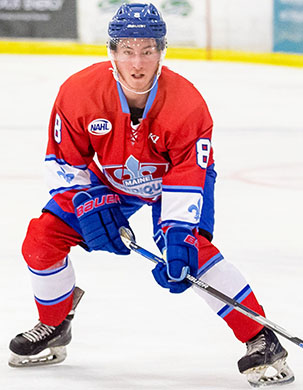 During the current and unforeseen cancelation of the 2019-20 season, the players in the NAHL saw their seasons cut prematurely short. In some cases, players saw their junior hockey careers come to an end as well. However, the NAHL got together a decided to highlight some of those players, who were born in 1999 and were in their final season of playing junior hockey.
As a result, we present a new series entitled: 50 players in 50 days
50 players in 50 days will select 50 players from each of the 26 NAHL teams this past season that were born in 1999, are currently uncommitted, and deserve some recognition during their time spent playing and developing in the NAHL. Over the course of the next 50 days, we will take time out to look at their accomplishments, review their season, and provide some background on their NAHL careers. Players will be initially highlighted in alphabetical order by team. Enjoy!
Cole Ouellette, Defenseman, Maine Nordiques
Maine Nordiques defenseman Cole Ouellette, 20, earned his way up to the NAHL this past season through the Ladder of Development in the NA3HL. The 5'11/170 lbs. native of Lewiston, Maine, shined for the NAHL's Nordiques in 2019-20, as he led all defensemen in scoring this past season with 30 points (5 goals, 25 assists) in 48 games played.
Watch: Cole Ouellette highlights
Ouellette had played the previous two seasons for the L/A Nordiques in the NA3HL, where he was a standout defenseman. During the 2018-19 season, he was named to the All-NA3HL 1st Team and was named the Coastal Division MVP and Defenseman of the Year.
Ouellette also played in the 2019 NA3HL Top Prospects Tournament. During his two seasons in the NA3HL with the L/A Nordiques, Ouellette appeared in 89 career games and had an astounding 146 points. That included being named NA3HL Rookie of the Year during the 2017-18 season where he was also named to the All-NA3HL 1st Team.
"Cole is a highly skilled, intelligent and savvy defensemen who took a lot of pride in wearing the Maine Nordique sweater and playing in the North American Hockey League. As a young man who grew up in the community and played at the Colisée throughout his childhood, won a state championship in the building at the high school level, played two outstanding years for the L/A Nordiques of the NA3HL, and then finished his last season of eligibility in the NAHL, I know advancing and excelling to this level in his home town was something he took a lot of pride in," said Maine head coach Nolan Howe.
"I think it was tremendous for Cole, the community and our team to have someone with his background representing us day in and day out, and he certainly laid a great path of advancement for future generations to follow in his footsteps. While he was a force on the power play and put up great offensive numbers, it was his development defensively and his growth as a person I am most proud of him for. We continue to work with Cole in the next step of his advancement as he looks to continue his hockey career at the NCAA level and I know he will be an alumni we celebrate in the future for his contributions on and off the ice to the Maine Nordiques," concluded Howe.