50 Players, 50 Days: Preston Weeks
April 6, 2020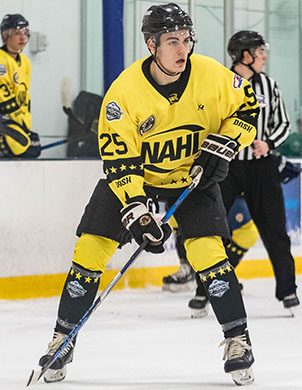 During the current and unforeseen cancelation of the 2019-20 season, the players in the NAHL saw their seasons cut prematurely short. In some cases, players saw their junior hockey careers come to an end as well. However, the NAHL got together a decided to highlight some of those players, who were born in 1999 and were in their final season of playing junior hockey.
As a result, we present a new series entitled: 50 players in 50 days
50 players in 50 days will select 50 players from each of the 26 NAHL teams this past season that were born in 1999, are currently uncommitted, and deserve some recognition during their time spent playing and developing in the NAHL. Over the course of the next 50 days, we will take time out to look at their accomplishments, review their season, and provide some background on their NAHL careers. Players will be initially highlighted in alphabetical order by team. Enjoy!
Preston Weeks, Defenseman, Kenai River Brown Bears
If there is someone that deserves his own feature and paid his dues in the North American Hockey League, it is Kenai River Brown Bears and Top Prospects defenseman Preston Weeks.
Weeks, who celebrated his 21st birthday just a day ago, has spent not only the past four and a half seasons playing in the NAHL for the same team, the Brown Bears, but he also is a Ladder of Development success story having played with the Pikes Peak Miners in the NAPHL prior to his time playing in the NAHL.
Watch: Preston Weeks highlights
The 6'3/205 lbs. hometown native of Soldotna, Alaska, made his final season in the NAHL his best, as he recorded 18 points (5 goals, 13 assists) in 50 games played. He was also selected to and played in the 2020 NAHL Top Prospects Tournament for the Midwest Division team, where he had one goal in two games.
However, the biggest accomplishment for Weeks may have come in early March when he set the new NAHL 'Ironman' record for most game played in a career. In total, Weeks has appeared in more NAHL games that anyone else in league history as he finished with 233 games played in total. In those 233 games, Weeks recorded 45 points.
"Preston has been a huge reason for Kenai's continual improvement over the past few seasons. His professionalism, work ethic, and dedication is unmatched. As a captain he leads by example both on the ice and in the community, he's a great role model and always willing to offer a helping hand. As a player this year he showed much improvement through his hard work as the year progressed, adding some offense to his consistently strong defensive play and putting up career best numbers across the board," said Brown Bears head coach Kevin Murdock.