50 Players, 50 Days: Bennett Stockdale
April 3, 2020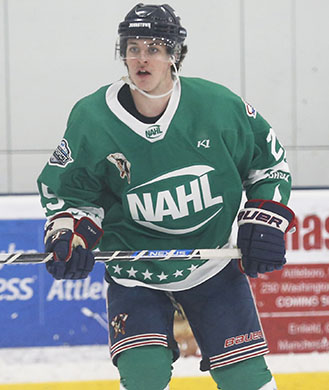 During the current and unforeseen cancelation of the 2019-20 season, the players in the NAHL saw their seasons cut prematurely short. In some cases, players saw their junior hockey careers come to an end as well. However, the NAHL got together a decided to highlight some of those players, who were born in 1999 and were in their final season of playing junior hockey.
As a result, we present a new series entitled: 50 players in 50 days
50 players in 50 days will select 50 players from each of the 26 NAHL teams this past season that were born in 1999, are currently uncommitted, and deserve some recognition during their time spent playing and developing in the NAHL. Over the course of the next 50 days, we will take time out to look at their accomplishments, review their season, and provide some background on their NAHL careers. Players will be initially highlighted in alphabetical order by team. Enjoy!
Bennett Stockdale, Forward, Johnstown Tomahawks
Johnstown Tomahawks forward
Bennett Stockdale
, 20, just completed his second and final season of playing in the NAHL for the Tomahawks. The 5'11/181 lbs. native of Ottawa, Ontario made his final season in the NAHL his best as he finished 4th in team scoring this season with 42 points (12 goals, 30 assists) in 50 games played.
Stockdale was selected to and played in the 2020 NAHL Top Prospects Tournament for the East Division team, where he showed off he skills, recording three points in the two games.
Stockdale's NAHL career with the Tomahawks has been remarkably consistent and productive as he has posted 81 career points in 110 career games played.
"Bennett was a vital part to our team's success this season. He was impactful on the ice for us with his ability to make great plays and produce big goals in key situations. Bennett could be used in any situation for us and do the job well. He was also a great leader for us from Day 1 in training camp. He was a great guy in the locker room who players looked up to, as well as fantastic in the Johnstown community. He would make a great addition to a program that is in need of a quality hockey player and quality person," said Tomahawks head coach Mike Letizia.