NAHL announces 2019-20 season awards
April 2, 2020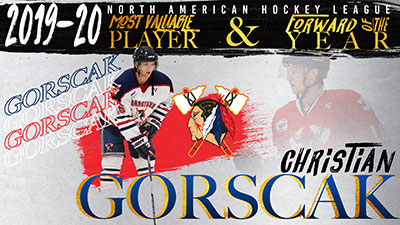 The North American Hockey League (NAHL) has announced the remainder of its awards for the 2019-20 season. The selections are based on performance during the 2019-20 regular season, as voted upon by the league's 26 Head Coaches.
The 2019-20 season awards include: All-NAHL Team, Most Valuable Player, Forward of the Year, Defenseman of the Year, Vaughn Hockey Goaltender of the Year, Rookie of the Year, Coach of the Year, General Manager of the Year, Executive of the Year and Organization of the Year, along with the Apex Learning Virtual School Academic Achievement Award, Leadership Award and Community Service Award. Here is a look at the winners:
2019-20 All-NAHL 1st Team
Forward: Joey Baez, Lone Star Brahmas
Forward: Christian Gorscak, Johnstown Tomahawks
Forward: Dante Sheriff, Austin Bruins
Defense: Sam Miller, Shreveport Mudbugs
Defense: Hampus Rydqvist, Maryland Black Bears
Goalie: Cayden Bailey, Lone Star Brahmas
2019-20 All-NAHL 2nd Team
Forward: Matt Allen, Amarillo Bulls
Forward: Matt Guerra, Lone Star Brahmas
Forward: Noah Kane, Maine Nordiques
Defense: Dylan Abbott, Fairbanks Ice Dogs
Defense: Sam Brennan, Lone Star Brahmas
Goalie: Mattias Sholl, Fairbanks Ice Dogs
2019-20 Most Valuable Player and Forward of the Year: Christian Gorscak, Johnstown Tomahawks
Johnstown Tomahawks and NAHL Top Prospects forward Christian Gorscak, 19, made a 40-point improvement from last season to tie for the NAHL scoring lead in 2019-20 with 64 points (25 goals, 39 assists) in 51 games played. The 5'11/185 lbs. native of Jeannette, Pennsylvania, who is committed to play NCAA Division 1 hockey at Niagara, has appeared in 155 games in his NAHL career and recorded 101 points. Gorscak played both the 2015-16 and 2016-17 seasons with the Esmark Stars 16U team in the NAPHL. In 48 career NAPHL games, he recorded 60 points. During the 2016-17 season, he helped the Stars to the NAPHL 16U Dixon Cup Championship, he appeared in the NAPHL 16U All-Star Game, and was also named to the All-NAPHL 16U 1st Team that season. (
Christian Gorscak highlights
)
2019-20 Vaughn Goaltender of the Year: Cayden Bailey, Lone Star Brahmas
Lone Star Brahmas and NAHL Top Prospects goalie Cayden Bailey, 20, had a season for the NAHL record books in 2019-20. The 5'11/180 lbs. native of Estero, Florida, had a tremendous regular season for the 1st place Brahmas. Bailey led the NAHL this season in goals against average (1.32), save percentage (.940) and shutouts (11). The 1.32 goals against average mark set a new NAHL single-season record and the 11 shutouts tied an NAHL single-season record that was set during the 2017-18 by then Brahmas goalie Mitchell Gibson. In March, Bailey announced his commitment to play NCAA Division 1 hockey for Michigan Tech University. (
Cayden Bailey highlights
)
2019-20 Defenseman of the Year: Sam Miller, Shreveport Mudbugs
Shreveport Mudbugs defenseman Sam Miller, 20, was a force on the blueline all season for his club. The 6'0/190 lbs. native of Pewaukee, Wisconsin, led his team in scoring this season as a defenseman with 40 points (16 goals, 24 assists) in 52 games played during the 2019-20 season. Miller, who is committed to play NCAA Division 1 hockey for American International College, had 16 goals this season, which led all NAHL defensemen and his 40 points ranked 2nd among all NAHL blueliners. (
Sam Miller highlights
)
2019-20 Rookie of the Year: Kyler Kleven, Minot Minotauros
Minot Minotauros rookie and NAHL Top Prospects forward Kyler Kleven, 19, had a very impressive first season of junior hockey in the NAHL. The 6'0/170 lbs. native of Moorhead, Minnesota, led Minot in scoring during the 2019-20 season, recording 53 points (25 goals, 28 assists) in just 48 games played. Kleven's 53 points led all NAHL rookies in scoring this season. He also was selected to and played in the 2020 NAHL Top Prospects Tournament for the NAHL Selects Blue team. (
Kyler Kleven highlights
)
2019-20 Coach and General Manager of the Year: Dan Wildfong, Lone Star Brahmas
It was a year to remember for Lone Star Brahmas head coach and general manager Dan Wildfong. The native of Clinton, Ontario, just completed his 7th season coaching in the NAHL with the Brahmas and the team was another strong contender for the Robertson Cup. Through 53 games, the Brahmas had the best record in the NAHL this season with a 42-9-2 mark. Wildfong's patented defense was on full display this season as the team only allowed 81 goals in 53 games. Wildfong, who guided the Brahmas to a Robertson Cup title in 2017, also had 12 players on this year's Brahmas roster with NCAA Division 1 commitments. In late November, Wildfong was honored with his 500th overall coaching win between the NAHL and the former Central Hockey League.
2019-20 Executive of the Year: Rick Bouchard, Johnstown Tomahawks
For the second straight season, Johnstown Tomahawks President, Rick Bouchard, who is a member of the NAHL's Executive Committee, has been named the NAHL's Executive of the Year. Bouchard helped the Tomahawks to another outstanding season on and off the ice. On the ice, the Tomahawks backed up last season's record-breaking effort with 34 wins through 51 games this season as they had secured a playoff spot and sat firmly in 2nd place. The team also had another solid season at the box office, as they were in the Top 5 in NAHL attendance. In addition, the current roster features seven players who are committed to play NCAA hockey.
2019-20 Organization of the Year: New Mexico Ice Wolves
The first-year New Mexico Ice Wolves made a splash in the NAHL from the start, which included the newly renovated Outpost Ice Arenas. The first ever games in Albuquerque were a smashing success, as they were played before sellout crowds. The Ice Wolves averaged over a 1,000 fans per game in their first season. On the ice, the Ice Wolves went 13-34-5 in 52 games this season, which also included their first NCAA commitments. The 2019-20 season also saw the Ice Wolves debut their unique team logo that reflects New Mexico and was recognized by SportsLogos.net as one of the top sports logos worldwide introduced in the decade. Prior to the season ending, the team also opened the 5,000 sq. ft. NM Ice Wolves Speed Gym which is a dedicated hockey training center designed by Jack Blatherwick, a world renowned sports physiologist who worked closely with legendary coach Herb Brooks during the season that resulted in the Miracle on Ice gold medal in the 1980 Winter Olympics. As part of a complete renovation of the Outpost Ice Arenas the facility was fitted with state-of-the-art television broadcast capability. Broadcasts of home games are done with eight HD cameras and new video switcher for broadcasts that rivals the quality of any hockey broadcasts on any outlet. Two new SuperScreen HD video scoreboards show fans multiple angles for gameplay and replays.
Amarillo Bulls rookie defenseman Oliver Bezick, 18, had an impressive first season of junior hockey on the ice and in the classroom. The 6'0/180 lbs. native of Delray Beach, Flordia, who is committed to play NCAA Division 1 hockey at Michigan Tech University, managed to carry a 4.291 GPA, getting all A's in his classes. Those classes included AP Calculus 2, AP Biology, AP Language, Honors Government and Honors Economics. He is currently carrying all A's in the following classes- AP Calculus AB, AP Physics, AP US History, Honors American Literature, and Honors Humans Anatomy. On the ice, Bezick played in 49 games this season, registering 11 points and a +21, which was good enough for 4th on the team for defensemen.
2019-20 Leadership Award: Chris Trouba, Johnstown Tomahawks
Going into this season, there was no secret that Trouba, 21, was the undisputed leader of the Tomahawks. Trouba started the season by representing the Tomahawks on Team NAHL at the Sirius Ice Hockey World Junior Cup. Once he returned from the event and was able to input his leadership, it was no coincidence that the Tomahawks began to find their identity and play well. Right before Thanksgiving, the 6'3/200 lbs. native of Auburn Hills, Michigan, sustained a severe neck injury. Following his injury, the outpouring of love and support from so many people in the Johnstown community and across the hockey world was nothing short of remarkable. After Trouba returned home from his injury, he came back to Johnstown following Christmas break. Thankfully due to no paralysis, he had hopes of returning at the end of the season. He began physical therapy in January. He was at every 7 AM workout with his team regardless of if he could participate. He was at every practice helping and supporting his teammates. At games, he took stats for the coaches, discussed topics before, during, and after the game, and truly led by his example the entire time he was out. Although he could not play he was still an amazing presence around the team. Sadly, Chris was scheduled to return to game action the day after the NAHL season was paused. Trouba finished his career playing in 162 career games, all with the Tomahawks. "Chris is far and away the best captain we have ever had, and ones like him are truly hard to find. The respect he has in Johnstown, the East Division, the NAHL, and all across hockey is unparalleled," stated Johnstown head coach Mike Letizia.
2019-20 Community Service Award: Logan Kons, Maryland Black Bears
Maryland Black Bears Captain and Defenseman, Logan Kons', 20, connection to the Central Maryland Community has grown stronger over his two seasons with the team. Not only did he volunteer his time, he acted as a team "culture carrier" in the community. Early in the season, Base Commander Colonel Erich Spragg requested players participate Fort Meade's 5k 9/11 Commemorative Run. Kons was there and stayed after to talk to some enlisted personnel about their interest in hockey and our Military Appreciation Night. Kons quickly identified the right teammates to participate in outreach events. From fundraising for Military Appreciation to community skates for local PTAs, Kons chose the right players to appear at the right time. At one PTA sponsored event, he taught the Crofton Elementary School students how to play safe and fun hockey. Two weeks later, we had over 40 students attend a home game against Jamestown. Kons took particular interest in community efforts that benefited fans with special needs. Of note is his work with the James E. Duckworth School, a school that serves students with disabilities. He worked with these students on a workbook they created and read about hockey. He was also a champion for our efforts with Fidos for Freedom, an organization that trains service dogs for the disabled including veterans. These events and many others would not have been possible without the help of Kons. Along with attending each event, he was directly responsible for streamlining the communication to players regarding the details of each event and ensuring there enough players in attendance. Whenever there was an opportunity to make a difference, attend a community event or volunteer, he ensured it bore the spirit of the Black Bear Nation because he's done so much to define it. Logan Kons knows most of our season ticket holders by name. He is a true ambassador for the team, for the NAHL and for the game.