50 Players, 50 Days: Jeremy Forman
March 30, 2020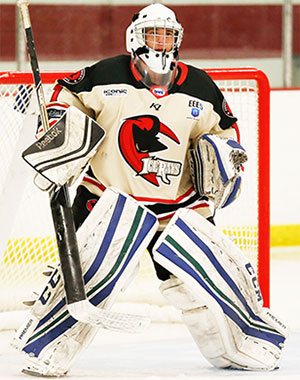 During the current and unforeseen cancelation of the 2019-20 season, the players in the NAHL saw their seasons cut prematurely short. In some cases, players saw their junior hockey careers come to an end as well. However, the NAHL got together a decided to highlight some of those players, who were born in 1999 and were in their final season of playing junior hockey.
As a result, we present a new series entitled: 50 players in 50 days
50 players in 50 days will select 50 players from each of the 26 NAHL teams this past season that were born in 1999, are currently uncommitted, and deserve some recognition during their time spent playing and developing in the NAHL. Over the course of the next 50 days, we will take time out to look at their accomplishments, review their season, and provide some background on their NAHL careers. Players will be initially highlighted in alphabetical order by team. Enjoy!
Jeremy Forman, goaltender, Corpus Christi IceRays
If there was an award for work horse this year for the Corpus Christi IceRays, it would have gone to goaltender
Jeremy Forman
. The 20-year-old from Northbrook, Illinois, put up some solid numbers in his final season of junior hockey.
Forman (5'10/165) appeared in 27 games during the 2019-20 season and posted a 8-12-3 record with a 2.70 goals against average and a .906 save percentage. Forman also had two shutouts.
This season was Forman's second pass through the NAHL. He made his NAHL debut during the 2017-18 season with the Brookings Blizzard. During that season, he posted a 3-2-0 record with the Blizzard.
"Jeremy has played in two different junior leagues, has competed everywhere he has gone and refused to be denied. He gave us a chance to win every night and our team played with extreme confidence every time he was in goal," said IceRays interim head coach Nate Woessner.
Prior to playing in the NAHL, the Illinois native played for the Chicago Young Americans, Team Illinois, and the Chicago Mission.