50 Players, 50 Days: Isaac Moberg
March 27, 2020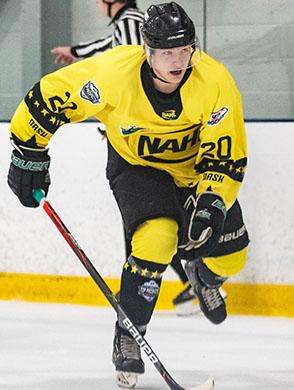 During the current and unforeseen cancelation of the 2019-20 season, the players in the NAHL saw their seasons cut prematurely short. In some cases, players saw their junior hockey careers come to an end as well. However, the NAHL got together a decided to highlight some of those players, who were born in 1999 and were in their final season of playing junior hockey.
As a result, we present a new series entitled: 50 players in 50 days
50 players in 50 days will select 50 players from each of the 26 NAHL teams this past season that were born in 1999, are currently uncommitted, and deserve some recognition during their time spent playing and developing in the NAHL. Over the course of the next 50 days, we will take time out to look at their accomplishments, review their season, and provide some background on their NAHL careers. Players will be initially highlighted in alphabetical order by team. Enjoy!
Isaac Moberg, forward, Chippewa Steel
Chippewa Steel forward
Isaac Moberg
, 20, finished his NAHL career as one of the most productive and consistent in organizational history. The 6'0/195 lbs. native of St. Paul, Minnesota, had his best career season in 2019-20, recording 30 points (8 goals, 22 assists) in 49 games played.
Moberg was also selected to and played in the 2020 NAHL Top Prospects Tournament for the Midwest Division team, where he had one point in two games.
Overall in his three-year NAHL career, which has been spent with both the Steel and Minnesota Wilderness, Moberg has appeared in 154 career NAHL games and posted 65 points.
"Isaac was a great leader for our team on and off the ice, and as a captain he set the standard for the rest of his teammates to follow. He worked hard throughout the season to continue to develop his game and it paid off as his offensive production began to pick up as the season progressed. As a three-year veteran in the NAHL his experience was very beneficial for our younger players to be able to learn from him," said Steel head coach Carter Foguth.
Prior to playing in the NAHL, Moberg was a standout forward for St. Paul Johnson High in Minnesota, where he played varsity hockey for four seasons, accumulating 79 points in 98 career high school games.