50 Players, 50 Days: Jed Pietila
March 25, 2020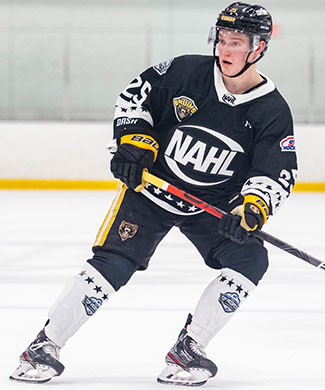 During the current and unforeseen cancelation of the 2019-20 season, the players in the NAHL saw their seasons cut prematurely short. In some cases, players saw their junior hockey careers come to an end as well. However, the NAHL got together a decided to highlight some of those players, who were born in 1999 and were in their final season of playing junior hockey.
As a result, we present a new series entitled: 50 players in 50 days.
50 players in 50 days will select 50 players from each of the 26 NAHL teams this past season that were born in 1999, are currently uncommitted, and deserve some recognition during their time spent playing and developing in the NAHL. Over the course of the next 50 days, we will take time out to look at their accomplishments, review their season, and provide some background on their NAHL careers. Players will be initially highlighted in alphabetical order by team. Enjoy!
Jed Pietila, defenseman, Austin Bruins
Austin Bruins and Top Prospects defenseman Jed Pietila, 21, has grown into one of the top defenseman in the NAHL and this past season proved it. The 6'0/181 lbs. native of Howell, Michigan, was a staple on the Bruins blueline and finished 2nd in scoring for all defensemen on the club with 29 points (8 goals, 21 assists) in 44 games played during the 2019-20 season.
Pietila made his NAHL debut during the 2017-18 season with the Aberdeen Wings and also spent time that season with the Minot Minotauros. He ended up completing the season with the Bruins and the rest was history. While in a Bruins uniform, Pietila 119 games and recorded 61 points. Overall in his NAHL career, he played in 128 games and had 64 points.
Pietila was selected to and played in the 2020 NAHL Top Prospects Tournament for the undefeated Central Division team, where he had one goal in two games.
"Jed has spent close to three years in Austin and it was a joy to watch him develop into the player he is now. He moved from forward to defense during his time here and really excelled into a high-caliber defenseman. The ability to play both positions is something that should help him get a chance at the next level," said Bruins head coach Steve Howard
Prior to playing the NAHL, the Michigan product played high school hockey for Hartland High and U16 hockey for both Compuware and Victory Honda.