50 Players, 50 Days: Connor Beatty
March 23, 2020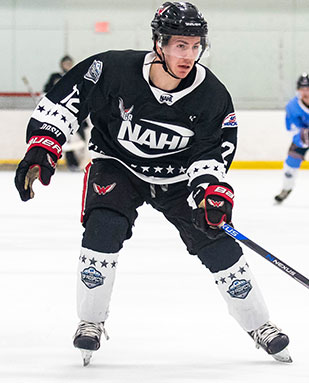 During the current and unforeseen cancelation of the 2019-20 season, the players in the NAHL saw their seasons cut prematurely short. In some cases, players saw their junior hockey careers come to an end as well. However, the NAHL got together a decided to highlight some of those players, who were born in 1999, and were in their final season of playing junior hockey.
As a result, we present a new series entitled: 50 players, 50 days
50 players in 50 days will select 50 players from each of the 26 NAHL teams this past season that were born in 1999, are currently uncommitted, and deserve some recognition during their time spent playing and developing in the NAHL. Over the course of the next 50 weekdays, we will take time out to look at their accomplishments, review their season, and provide some background on their NAHL careers. Players will be initially highlighted in alphabetical order by team. Enjoy!
Connor Beatty, forward, Aberdeen Wings
Aberdeen Wings forward Connor Beatty, 21, put up some solid numbers in his final season in the NAHL with the Wings. The 5'8/161 lbs. native of Concord, New Hampshire, posted 20 points (7 goals, 13 assists) in 48 games played this season.
Beatty really shined on the National stage during the 2020 NAHL Top Prospects Tournament, as he led the Central Division team to a an undefeated 2-0 record, posting two goals and an assist in the two wins.
Watch: Connor Beatty highlights
Beatty recorded 30 points for the Wings during the 2018-19 season on their way to the Robertson Cup title, also playing in all 12 playoff games. He was drafted by Aberdeen #115 overall in the 2018 NAHL Draft. Overall in 105 career NAHL regular season games, Beatty finished with 50 points.
"Connor is a hard-working forward that isn't afraid of the physical game. His speed is a major component of his game that will allow him to fully excel at the next level," remarked Wings head coach Scott Langer.
Prior to playing junior hockey in the NAHL, Beatty spent his youth hockey playing for the New Hampshire Jr. Monarchs in the Tier 1 Elite League.