March 11, 2020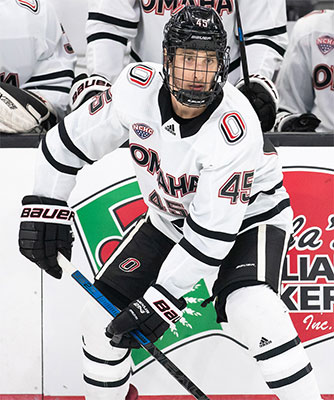 NCHC First-Team All-Conference
Hunter Shepard, G, Minnesota Duluth (Bismarck Bobcats) - Shepard was once again rock solid in net, posting a 17-5-2 record with one shutout, as he was the only goalie to start all 24 conference games. He finished second with both a .923 save percentage and a 2.13 goals-against average in conference play, but first in both among goalies who played at least half the NCHC games. Shepard was a seven-time Goalie of the Week this season.
2019-20 NCHC All-Rookie Team
Joey Abate, F, Omaha (Janesville Jets) - Abate tied for third in NCHC rookie scoring with 11 points on four goals and seven assists in 19 conference games.
WCHA Goaltender of the Week: Matt Jurusik, Michigan Tech (Janesville Jets)
Michigan Tech senior Matt Jurusik led the WCHA with a 1.46 goals-against average, a .951 save percentage, and two wins in the first round of the playoffs as the Huskies swept Northern Michigan. The La Grange, Ill., native stopped 34 shots Friday and made 43 saves to set a new personal career high as the Tech netminder on Saturday. He hasn't allowed a goal in the last 69:08 after Tech won the second-longest game in program history with a 4-3 triple overtime win. He ranks ninth in the nation with 19 wins. This is his second career WCHA Goaltender of the Week honor.
NAHL Alumni Pro Signings
Griff Jeszka, F, Merrimack – Worcester (ECHL) (Coulee Region/Corpus Christi/Brookings)
Kyle Meeh, D, St. Mary's - Kansas City (ECHL) (Fairbanks/Springfield)
Anthony Parrucci, F, Elmira – Pensacola (SPHL) (Michigan/Johnstown)
Drew Doyon, F, Aurora – Peoria (SPHL) (Aberdeen/Johnstown)
Sami Tavernier, F, Merrimack – Syracuse (AHL) (Topeka Roadrunners)
Jack Stang, F, St. Mary's – Evansville (SPHL) (Brookings Blizzard)
Austin Shaw, G, Ferris State – Cincinnati (ECHL) (Wichita Falls Wildcats)
Nick DeVito, F, Morrisville – Worcester (ECHL) (Amarillo Bulls)
Nick Ford, F, Elmira – Florida (ECHL) (Lone Star/Brookings)
Jake Drinkard, F, Lawrence – Birmingham (SPHL) (Kenai River)
Austin Beaulieu, F, Alabama Huntsville – Utah (ECHL) (Wichita Falls Wildcats)
Brady Heppner, F, St John's – Roanoke (SPHL) (Minnesota Magicians)
Zach Yoder, D, Ferris State – Toledo (ECHL) (Janesville Jets)
Joe Rutkowski, D, Ferris State - Rapid City (ECHL) (Coulee Region Chill)
Cam Clarke, D, Ferris State – Wichita (ECHL) (Lone Star Brahmas)
Andrew Durham, F, Wisconsin-Superior – Norfollk (ECHL) (Odessa/New Jersey)
Connor Hutchins, F, Brockport – Peoria (SPHL) (Brookings Blizzard)
Stefanos Lekkas, G, Vermont - Fort Wayne (ECHL) (Springfield Jr. Blues)