St. Cloud head coach Mantha to retire at the end of the season
March 4, 2020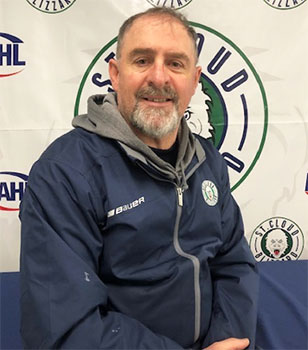 The St. Cloud Blizzard of the North American Hockey League (NAHL) has announced that Head Coach and General Manager Moe Mantha will retire at the conclusion of the current 2019-20 season. An immediate search is underway for Mantha's replacement.
Mantha began his journey with Blizzard organization in Brookings, South Dakota. There he realized the importance of outreach to the community. He has been instrumental in bringing that same mindset to St. Cloud, Minnesota. He has continued to emphasize the importance of demonstrating the positive impact Junior Hockey, its players, the coaches and its supporters can play in enriching the community both on and off the ice.
His leadership has made a big impact on a lot of lives.
"Coach has not only improved my game, but he has believed in me. He believed in this team and that means something," recalled a player recently.
Mantha has had a storied career in hockey both on and off the ice. He represented the United States in International hockey; he was a member of the U.S. team in the 1981, 1985 and 1991 Ice Hockey World Championships as well as the 1992 Winter Olympics. He played in the NHL from 1980-1993 with the Winnipeg Jets, Pittsburgh Penguins, Edmonton Oilers, Minnesota North Stars, and the Philadelphia Flyers.
Although Mantha has played hockey with some of the greats like Wayne Gretzky and Mario Lemieux, coaching the St. Cloud Blizzard has been all about making a greater impact.
"When I began my coaching career 28 years ago my goal was to help develop players and help them move onto the next best level possible. It was also my mission to help them take what they have learned from hockey and apply to their future life outside of hockey," Mantha remembers fondly of his time teaching and learning from those around him.
The entire St. Cloud Blizzard Organization would like to extend sincere gratitude to Coach Mantha for his leadership over the past three years and best wishes to him on his retirement.