Magicians move into playoff position with another win
March 1, 2020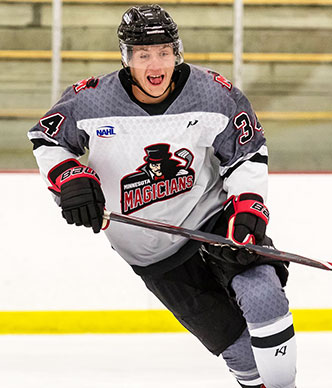 MN Magicians 3 @ Chippewa 2 – The Magicians moved into sole possession of the 4th and final playoff spot thanks to 42 saves from goalie Dysen Skinner in a 3-2 road win in Chippewa Falls in the lone NAHL game on Sunday. The Magicians increased their point streak to seven straight games with the win.
Late in the 1st period, it was the Steel with the game's first goal as Spencer Oyler scored on the power play. Before the period was up, the Magicians knotted the game at 1-1 as Devlin McCabe scored with :35 seconds remaining in the opening period.
In the 2nd period, the Magicians took a 2-1 lead with Lucas Kanta's 11th goal of the season.
In the 3rd period, the Steel tied the game at 2-2 as Isaac Moberg scored just :09 seconds into the final period. However, the Magicians found the game-winner off an unassisted goal from Trevor Kukkonen.
For Skinner, who began the season in the NA3HL with the North Iowa Bulls, it was his fifth straight win and third win of the week as he stopped a total of 83 of 88 shots during the weekend. Trent Burnham took the loss, making 23 saves,