Saturday Scores: Series sweep puts Wings back in playoffs
March 1, 2020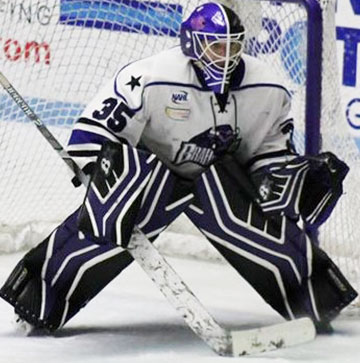 Aberdeen 5 @ Minot 1 - Deadlocked at one goal apiece midway through the game, Aberdeen rattled off four unanswered to take a 5-1 win over Minot and clinch their spot in the 2020 Robertson Cup Playoffs. Cade Neilson, Spencer Schneider, Jack Powell, Mack Byers and Jake Beaune all got in on the scoring as the Wings romped, with Henry Welsch stopping 26 of 27 between the pipes. Joseph Harguindeguy nabbed the lone Minot marker in front of Ben Garrity's 24 stops in goal.
Springfield 2 @ Janesville 6 - The Jets rode a two-goal, one-assist effort from Parker Lindauer and goals from four other scorers to a 6-2 home win over the Jr. Blues on Saturday. Riley Sims backstopped the win with 20 saves as Brandon McNamara, Charlie Schoen, Grant Hindman and Nick Nardella each potted goals to join Lindauer. Ethan Heidepriem and Jeremy Gabriele scored for Springfield in front of 24 saves by Ryan Wilson in net.
New Mexico 0 @ Lone Star 4 - The Brahmas shut down the Ice Wolves for a second straight contest, with Cayden Bailey picking up the shutout this time, stopping 17 of 17 as Lone Star cruised past New Mexico 4-0. For Bailey, it was his 11th shutout of the season, tying a single-season NAHL record. Thomas Daskas potted a pair, with Matt Guerra and Joey Baez joining him in the goal column. Henrik Laursen stopped 33 of 37 for New Mexico.
New Jersey 4 @ Northeast 2 - Chris Garbe's hat-trick led the offense, Ryan McInchak's 54-save stonewall effort led the defense and the Titans knocked off the Generals 4-2 on Saturday. Gavin Gulash also scored for New Jersey, while Ethan Destefani and Adam Smith nabbed the Northeast goals. Connor Bradford finished with 25 saves in the Generals' net.
St. Cloud 3 @ MN Magicians 7 - Shane Donovan's double, Dysen Skinner's 17 saves and a three-point effort (1g, 2a) from Chris Konin led a stout Magicians team to a 7-3 win over the Blizzard at home. Josh Bohlin, Mason Wheeler, Robert Christy and Trevor Kukkonen rounded out Minnesota's scoring, while Colin West, Brady Bjork and Max Johnson proved St. Cloud's offense. Caleb Wall made 30 saves in the Blizzard net.
Chippewa 4 @ MN Wilderness 5 (OT) - Aaron Myers had a night to remember as he potted a pair of goals -- once in regulation and the overtime winner to carry the Wilderness past the Steel 5-4 on Saturday. Isak Johansson held down the fort with 32 saves for Minnesota, as Tyler Watkins, Jacob Herter and Nate Horn also hit the scoresheet. Connor McGrath (2g) and Grisha Gotovets (3a) put on a show for Chippewa, but their efforts, combined with goals from Jacob Dirks and Braden Lindstrom, fell just short. Grant Boldt stopped 24 pucks in the Chippewa loss.
Odessa 0 @ Shreveport 3 - Maiszon Balboa stopped all 16 shots against for his second consecutive shutout and another Mudbugs win, this time 3-0 over the visiting Jackalopes. Alexis Girard, Brent Keefer and Tim Khokhlachev provided the offense in this one, as Andrew Takacs faced down 36 shots in the Odessa net.
Jamestown 1 @ Maryland 2 - A tense 1-1 deadlock gave way to a Maryland win after Aaron Swanson struck early in the third en route to 2-1 victory over Jamestown. Black Bears netminder Cooper Black stopped 17 pucks for the win, with Hampus Rydqvist grabbing the other Maryland goal. Nick Siffringer scored for Jamestown in front of Jon Howe's 33-save effort between the pipes.
Topeka 3 @ Amarillo 2 (OT) - Luc Salem found twine in overtime to mark his second goal of the game and give the Pilots a 3-2 win over the Bulls on Saturday. Alexander Oberg potted the other Pilots goal, while Nick Trela and Noah Carlin posted the Amarillo markers. Guy Blessing's remarkable 50-save night sealed the win in Topeka's net, while Charlie Glockner turned aside 22 pucks at the other end of the ice.
Bismarck 3 @ Austin 2 - Down by a pair midway through the game, Bismarck's George Grannis led an inspired comeback with two goals -- including the game-winner -- as the Bobcats edged out the Bruins 3-2. Will Hillman also lit the lamp for Bismarck, while Hugh Quinn and Barrett Brooks scored for Austin. Andrew Miller made 25 saves in Bismarck's win, outdueling Brett Miller's 19 stops in Austin's net.