Friday Finals: Black Bears help playoff chances with shutout win
February 29, 2020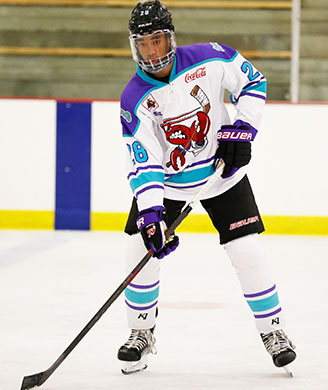 Jamestown 0 @ Maryland 3 - A goal in each period and 18 saves from Cooper Black did the trick for the Black Bears, as they toppled the Rebels 3-0. The win moved the Black Bears into sole possession of the 4th and final playoff spot in the East Division. Logan Kittleson, Cameron Recchi and Jude Kurtas tallied for Maryland as they forced Rebels netminder Noah West into 25 saves.
MN Magicians 4 @ St. Cloud 0 - The Magicians cruised past the Blizzard 4-0 on Friday, thanks in large part to the efforts of netminder Dysen Skinner. The former NA3HL netminder stepped up with a 24-save shutout for Minnesota, with Marko Reifenberger, Jake Seitz, Mason Wheeler and Josh Bohlin adding goals at the other end. St. Cloud goalie Tyler Bost stopped 30 pucks for the Blizzard.
Odessa 0 @ Shreveport 6 - Brent Keefer nabbed a hat-trick, Maiszon Balboa posted a 16-save shutout and the Mudbugs cruised past the Jackalopes 6-0 on Friday. Matt Hutton, David Breazeale and Ryan Waltman rounded out the offense as Shreveport forced Odessa goalie Andrew Takacs into 30 saves.
New Mexico 0 @ Lone Star 4 - It was another South shutout in Lone Star as Ludvig Persson stopped all 10 shots against to backstop the Brahmas to a 4-0 win over the Ice Wolves. Joey Trazzera, Thomas Daskas, Stefan Miklakos and Joey Baez tallied for Lone Star, and Henrik Laursen stopped 24 pucks for New Mexico.
Springfield 0 @ Janesville 6 - The Jets struck early and often as the tore through the Jr. Blues for a 6-0 win. Riley Sims starred in net with a 21-save shutout, with Parker Lindauer, Nick Michel, Nick Nardella, Justin Thompson, Max Itagaki and Charlie Schoen each netting a goal. Netminders Ryan Wilson and Alex Proctor combined for 27 saves in the Springfield cage.
Aberdeen 7 @ Minot 2 – Two-goal nights from Mack Byers and Jakob Breault set the pace as the Wings thumped the Minotauros 7-2 on Friday. Henry Welsch backstopped the win with 26 saves, as Spencer Schneider, Zach Aughe and Riley Murphy capped off the Aberdeen attack. Kevin Ness and Cade Stibbe potted Minot's markers in front of a combined 28 saves from Ben Garrity and AJ Ruskowski.
New Jersey 7 @ Northeast 5 - Kyle Jeffers posted five points, Michael Outzen set up three tallies and Ryan McInchak stopped 34 of 39 pucks for a 7-5 Titans win over the Generals. Jeffers' double was joined by Jake LaRusso, Nick DeSantis, Matt Cameron, Brody Medeiros and Cade Penney on the New Jersey scoresheet. Northeast received goals from Gerard Marretta, Tyler Cooper, Clark Kerner, Kyle Schroeder and Ricky Boysen, as well as 30 saves in goal from Joey Stanizzi.
Topeka 1 @ Amarillo 3 - 40 scoreless minutes gave way to a flurry of action in the third, where three straight Bulls goals gave them the 3-1 win over the Pilots. Gleb Murtazin, Noah Carlin and Matt Allen provided the spark on offense, with Max Gutjahr stopping 26 of 27 shots against in the Amarillo victory. Shawn Kennedy grabbed the lone Topeka goal in front of a stout 49 stops from Josh Langford in net.
Bismarck 2 @ Austin 3 (OT) - Dante Sherriff knotted things up at a pair apiece early in the third and Hugh Larkin struck just over a minute into overtime to cap off Austin's 3-2 comeback win over the Bobcats. George Grannis bagged a double for Bismarck, but his efforts fell short as Brett Miller stopped 23 of 25 for the win. Josef Mysak tallied the other Bruins goal as Bismarck goalie Andrew Miller faced down 23 of 26 shots.
Chippewa 6 @ MN Wilderness 7 (OT) - Led by two-goal efforts from Aaron Myers and OT-game-winner Lewis Crosby, the Wilderness held off the Steel for a 7-6 victory after an extra frame. Alec Cokley, Mitch Allard and Bram Scheerer also found twine for Minnesota, as Isak Johansson made 26 saves in the win. Killian Kiecker-Olson led Chippewa with a pair on the night, joining Isaac Mobert, Connor McGrath, Braiden Dorfman and Luke Farthing in the goal column. Grant Boldt and Trent Burnham posted a shared 22 saves in the Steel cage.