February 26, 2020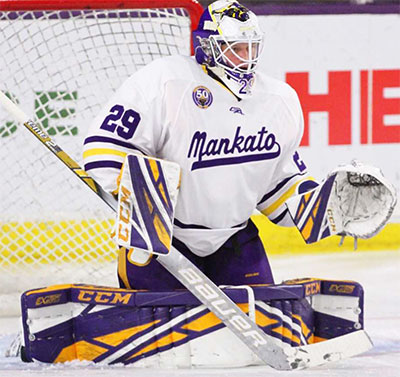 Atlantic Hockey Goalie of the Week: Alex Schilling, Air Force (Austin Bruins)
Among AHA goalies who started more than one game, his 0.96 GAA and his .957 saves percentage were the best in the league. Allowed just two goals in two games as Air Force took five of six points and snapped a nine-game winless skid. He made 24 saves in game one as Air Force earned two points in a 1-1 overtime tie, making 10 saves in the third period and one in overtime. In game two, Schilling made 20 saves, including 10 in the third period, as Air Force won 2-1.
Atlantic Hockey Rookie of the Week: Chad Veltri, Niagara (Corpus Christi IceRays)
Chad Veltri continued his strong play, posting a 1.98 goals against average and 0.935 save percentage as Niagara split a pair of games against RIT last weekend. Of goalies who started two games, he ranked fourth in both metrics and was tops of freshmen netminders. He tallied 29 saves in each game. Veltri led Niagara to a 4-1 win on Friday and was nearing a similar result before RIT's Brubacher came through with an extra attacker goal and then the overtime goal a couple minutes later.
B1G First Star: Roman Ahcan, Wisconsin (Brookings Blizzard)
Scored both game-winning goals and recorded six points to lead the Badgers to a sweep over No. 9/9 Arizona State. He notched his first career hat trick and five-point game in Friday's 7-6 victory. His hat trick marked the first for the Badgers at home since defenseman Justin Schultz on Nov. 27, 2010 against Michigan State, while the five-point game was the Badgers' first since Mark Zengerle had a goal and four assists against Mercyhurst on Nov. 25, 2011.
ECAC Player of the Week: Todd Burgess, RPI (Fairbanks Ice Dogs)
Burgess found a scoring touch this weekend, helping RPI to a pair of wins over Quinnipiac and Princeton. The senior scored five goals, four of which came in Saturday's 7-1 win over the Tigers. He led all of ECAC Hockey in points (5), goals (5) power-play goals (2), and on-ice rating (+5).
NCHC Rookie of the Week: Isaiah Saville, Nebraska-Omaha (Minnesota Magicians)
Saville played nearly every second in net of Omaha's split at home with Colorado College last weekend. The Vegas Golden Knights draft pick allowed only three goals all series, while leading the NCHC in goals-against average and save percentage among goalies with at least two games played on the week. On Friday, Saville turned aside all 22 shots he faced for his first career shutout in a 5-0 victory. He made five of his saves short-handed to help UNO go 5-for-5 on the penalty kill, while he earned First Star of the Game. The next night, he compiled 30 saves in a 3-2 defeat, with one of the Tigers' goals coming on the power play. Saville ended the weekend with a 1-1-0 record, while totaling 52 saves on 55 shots for a 1.52 GAA and a .945 save percentage. With the results, he improved to 10-9-4 on the season, while lowering his GAA to 2.83 and upping his season save percentage to .905.
WCHA Forward of the Week: Marc Michaelis, Minnesota State (Minnesota Magicians)
Minnesota State senior Marc Michaelis registered five points on three goals and two assists as No. 3/3 Minnesota State claimed a two-game league home sweep over Alabama Huntsville last weekend. In his first game back following a seven-game absence due to injury, the Mannheim, Germany, native recorded a goal and two assists in last Friday's 10-0 win over the Chargers. He scored twice in Saturday's 8-0 victory. Michaelis leads the Mavericks in scoring with 38 points on 19 goals and 19 assists on the season and stands tied for seventh in the nation in points scored. The senior captain has 158 points on 70 goals 86 assists in 144 career games to rank third on Minnesota State's career scoring list. His 70 goals are the most scored by any Maverick player in the program's NCAA Division I era. This is Michaelis' fourth career WCHA weekly honor.
WCHA Goaltender of the Week: Dryden McKay, Minnesota State (Corpus Christi/Springfield)
Minnesota State sophomore Dryden McKay stopped all 30 shots he faced in pitching back-to-back shutouts in a pair of wins over Alabama Huntsville. McKay turned away 11 shots in Friday's 10-0 win and made 19 stops in Saturday's 8-0 victory over the Chargers. The Downers Grove, Ill., native has 27 wins (27-3-2) with 1.28 GAA, 943 save percentage and 10 shutouts to lead the nation in all four categories. He has established a school single season record for shutouts and owns school career shutout mark with 14. His 10 shutouts this season ties for second on NCAA men's ice hockey single-season list, two off the record (12 by Niagara's Greg Gardner in 2000). This is McKay's seventh Goaltender of the Week award this season and his 13th career weekly honor (2- Rookie, 11- Goaltender).
Former NAHL and Aberdeen Wings goalie
Peter Thome's
moment in the spotlight with North Daktoa comes after years of battling through setbacks (
read
)