NAHL announces Bauer Hockey Divisional Stars of the Week
February 24, 2020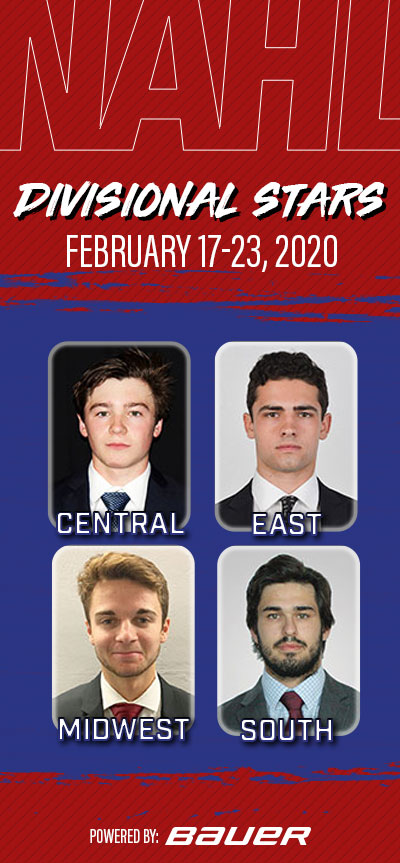 The North American Hockey League (NAHL) today announced the Divisional Stars of the Week presented by Bauer Hockey for the week ending February 23, 2020. The Divisional Stars of the Week is a weekly feature during the 2019-20 regular season that honors the top performing players in each of the four NAHL divisions. Only players that are nominated by their respective teams are considered for the Divisional Players of the Week award.
Video: NAHL Stars of the Week for February 17-23
Central Division Star of the Week: Mack Byers, Forward, Aberdeen Wings
Aberdeen Wings forward Mack Byers, 21, helped his team hold their 1st place lead with a weekend home split against the Austin Bruins. The 6'1/175 lbs. native of Long Lake, Minnesota, and Northern Michigan recruit had three points in the two games. On Friday, Byers had an assist and the game-winning shootout goal in a 3-2 shootout win. On Saturday, he scored both of his team's goals, which also were both shorthanded, in a 5-2 loss. In 31 games played his season, Byers has 39 points. "Mack's work ethic is top notch. This in addition to his speed, skill and ability to score has been a big addition to our team. Mack is a player that conducts himself like a pro everyday, and leads by example. He's a strong piece to the Aberdeen Wings," said Wings head coach Scott Langer.
2nd Star: Garrett Worth, F, Minnesota Wilderness
Honorable Mention (alphabetical): Jack Conroy, F, Bismarck Bobcats – Will Hillman, F, Bismarck Bobcats – Brett Miller, G, Austin Bruins – Josef Mysak, D, Austin Bruins – Tyler Watkins, F, Minnesota Wilderness – Henry Welsch, G, Aberdeen Wings
East Division Star of the Week: Gerard Marretta, Forward, Northeast Generals
Northeast Generals forward Gerard Marretta, 21, had a huge weekend as the Generals stayed in the East Division playoff race with two road wins in a three-game series with the Maine Nordiques. The 5'9/183 lbs. native of Monroe, New Jersey, had nine points in the three games. On Friday, he had seven points, including a goal and six assists in a 10-7 win. On Saturday, he had a goal in a 5-2 loss, and the on Sunday he had another goal in a 3-2 win. "Gerard has a monster weekend for us. This was a must win weekend as far as our playoff hopes go and he set the tone for us on Friday with seven points. He was relentless on the forecheck and was a lot to handle down low. He continued his great play on Saturday and then was huge again on Sunday where he won a ton of battles and did what a good Captain does and kept the boys up and helped us close out a 3-2 win," said Generals head coach and GM Bryan Erikson.
2nd Star: Liam Hansson, D, Jamestown Rebels
Honorable Mention (alphabetical): Johnny Kaljian, F, WBS Knights – Andrius Kulbis-Marino, D, Maine Nordiques – Anthony Mastromonica, F, WBS Knights – Dylan Schuett, F, Northeast Generals – Casper Soderling, D, Maine Nordiques – Noah West, G, Jamestown Rebels
Midwest Division Star of the Week: Mattias Sholl, Goaltender, Fairbanks Ice Dogs
Fairbanks Ice Dogs and NAHL Top Prospects goalie Mattis Sholl, 19, won both his starts this weekend as Fairbanks took two of three games in a weekend series in Springfield against the Jr. Blues. The 5'10/165 lbs. native of Hermosa Beach, California, allowed just a single goal on 40 shots in the two wins. On Saturday, he stopped all 18 shots that came his way in a 7-0 shutout and then on Sunday, he stopped 21 of 22 shots in a 4-1 win. For the season, Sholl leads the NAHL in wins with 28 and ranks in the Top 10 in both goals against average (2.01) and save percentage (.923). "Mattias battled hard this weekend as he has logged a lot of minutes. He was very composed and played the puck extremely well," said Ice Dogs head coach Trevor Stewart.
2nd Star: TJ Sagissor, Forward, Minnesota Magicians
Honorable Mention (alphabetical): Parker Brown, F, Fairbanks Ice Dogs – Chris Konin, F, Minnesota Magicians – Parker Lindauer, F, Janesville Jets – Grant Riley, G, Janesville Jets
South Division Star of the Week: Matt Guerra, Forward, Lone Star Brahmas
It was quite the week for Lone Star Brahmas forward Matt Guerra. The 20-year-old native of Sanford, Florida, who played in the 2020 NAHL Top Prospects Tournament, led the Brahmas to two road wins in Corpus Christi this past weekend, which came just days after his commitment to Robert Morris University. Guerra (5'10/181) had seven points in the two wins, which included two goals and an assist in a 4-2 win on Friday and a goal and three assists in another 4-2 win on Saturday, Guerra also scored both game-winning goals on the weekend. "There is a lot of pressure on 20-year-olds like Matt in our league, not only to lead and produce for their teams, but to earn an NCAA commitment. I have to give Matt credit because he has stuck with the process and it has paid off for him in his play, especially at Top Prospects and into this week. I was glad to see it pay of for him with the commitment earlier this week and he didn't take his foot off the gas pedal this weekend," said Brahmas head coach Dan Wildfong.
2nd Star: Matt Allen, F, Amarillo Bulls
Honorable Mention (alphabetical): Charlie Glockner, G, Amarillo Bulls – Josh Langford, G, Topeka Pilots – Nick Nardecchia, F, Topeka Pilots