Sunday Wrap-Up: Knights solidify playoff position with sweep
February 24, 2020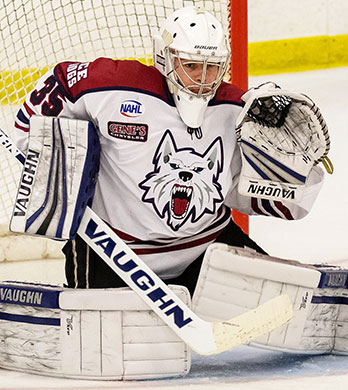 Maryland 3 @ WBS Knights 6 – The Knights won their third straight game and completed a weekend home sweep of the Black Bears thanks to a 6-3 win on Sunday. The Knights got off to a good start, taking a 2-0 lead in the 1st period with goals from Spencer Kring and Shane Murphy. Maryland scored all three of their goals in the 2nd period, which included two from Andrew Remer and another from Brayden Stannard, but the Knights had an answer with goals from Johnny Kaljian and Anthony Mastromonica. The game was secured in the 3rd period as the Knights added two more goals, including another from Kaljian and one from Tyrone Bronte to pick up the 6-3 win. Zach Stejskal made 35 saves in the win, while Aaron Randazzo made 30 saves in the loss.
Fairbanks 4 @ Springfield 1 – Matt Koethe had two goals and an assist and Mattias Sholl stopped 21 of 22 shots as the Ice Dogs took the rubber match of their three-game set in Springfield thanks to a 4-1 win on Sunday. Koethe scored in the 1st period to make it 1-0 for the Ice Dogs and Evan Junker added a goal early in the 2nd period to make it 2-0. The Jr. Blues cut the lead to 2-1 with their lone goal from Mason McCormick midway through the 2nd period, but the Ice Dogs would add two more goals later in the 2nd period to secure the 4-1 win including another goal from Koethe and a goal from Oliver Kjaer. Jr. Blues goalie Alex Proctor played well in the loss, making an NAHL season-high 72 saves on 76 Fairbanks shots.
Northeast 3 @ Maine 2 – Generals forward Gerard Marretta capped of an eight-point weekend with another goal, helping his team to a 3-2 win on Sunday in the rubber match of a three-game set in Maine. After a scoreless 1st period, the Generals went ahead on a goal from Marretta, his 16th of the season. Maine would tie the game just :27 seconds later as Isaiah Fox lit the lamp. The Generals would regain their one-goal lead just a minute after that with a goal from Kyle Schroeder. Early in the 3rd period, the Nordiques tied the game again as a goal from Andrius Kulbis-Marino made it 2-2, but the Generals got the game-winner later in the final frame from Clark Kerner. Joey Stanizzi made 26 saves in the win, while Avery Sturtz made 30 saves in the loss.