February 21, 2020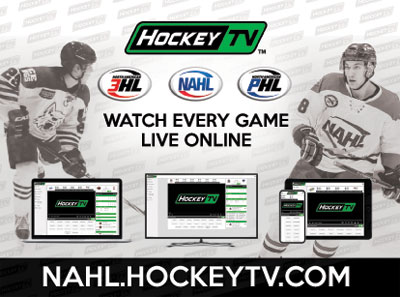 The NAHL comes into the weekend riding a high of another outstanding Top Prospects Tournament. In the few days following the event, four players who played in the Top Prospects Tournament have since announced their NCAA Division 1 commitments, with many more to come in the next few weeks.
Currently, the NAHL has 192 NCAA commitments so far during the 2019-20 season.
On the ice this weekend, the business of qualifying for the 2020 Robertson Cup Playoffs resumes for the teams in the Central, East and Midwest Division. Meanwhile, the race for the top spot and #1 seed in each division is also hotly contested.
This weekend features 24 games on the schedule from Friday-Sunday.
In the Central Division, the 1st place Aberdeen Wings put their four-game winning streak on the line this weekend with home series against the 4th place Austin Bruins, who will be looking to snap a small two-game losing skid. The 2nd place Bismarck Bobcats are riding a seven-game point streak and will be on the road to face the Minnesota Wilderness. The Wilderness are coming off a 4-2 win on Thursday over the St. Cloud Blizzard. The Blizzard and the Minot Minotauros are idle the remainder of the weekend.
In the East Division, the 1st place New Jersey Titans look to lock up the division's first playoff berth as they travel to Jamestown to take on the Rebels. In other action, 3rd and 4th place teams battle as the Wilkes-Barre/Scranton Knights host the Maryland Black Bears with the two teams separated by just four points. The Maine Nordiques look to gain ground on a playoff spot as they host the Northeast Generals for three games. The Johnstown Tomahawks are idle.
In the Midwest Division, the Fairbanks Ice Dogs look to close in on a division title and continue their 17-game point streak as they are in Springfield for three games against the Jr. Blues. The battle of Wisconsin resumes between the 3rd place Chippewa Steel and 4th place Janesville Jets this weekend with a home-and-home series. Meanwhile, the final series has the 2nd place Kenai River Brown Bears in Minnesota to face the Magicians. The Magicians are just two points back of the Jets for the 4th and final playoff spot.
In the South Division, the battle for the division title resumes this weekend with the 1st place Amarillo Bulls hosting the Shreveport Mudbugs, in what may be a potential playoff preview. One point back of the Bulls for the top spot is the Lone Star Brahmas, who are on the road to face the Corpus Christi IceRays. The final series features the Topeka Pilots on the road to face the red-hot New Mexico Ice Wolves. Odessa is idle.
FRI, FEBRUARY 21
Northeast at Maine - 7:00 PM EST
New Jersey at Jamestown - 7:05 PM EST
Shreveport at Amarillo - 7:05 PM CST
Lone Star at Corpus Christi - 7:05 PM CST
Bismarck at MN Wilderness - 7:05 PM CST
Fairbanks at Springfield - 7:05 PM CST
Janesville at Chippewa - 7:10 PM CST
Austin at Aberdeen - 7:15 PM CST
Kenai River at MN Magicians - 7:15 PM CST
Topeka at New Mexico - 7:30 PM MST
SAT, FEBRUARY 22
Northeast at Maine - 7:00 PM EST
New Jersey at Jamestown - 7:05 PM EST
Fairbanks at Springfield - 6:05 PM CST
Maryland at Wilkes-Barre/Scranton - 7:30 PM EST
Shreveport at Amarillo - 7:05 PM CST
Lone Star at Corpus Christi - 7:05 PM CST
Chippewa at Janesville - 7:05 PM CST
Kenai River at MN Magicians - 7:05 PM CST
Bismarck at MN Wilderness - 7:05 PM CST
Austin at Aberdeen - 7:15 PM CST
Topeka at New Mexico - 7:00 PM MST
SUN, FEBRUARY 23
Northeast at Maine - 2:00 PM EST
Maryland at Wilkes-Barre/Scranton - 2:00 PM EST
Fairbanks at Springfield - 4:00 PM CST