Central and East go undefeated at NAHL Top Prospects
February 19, 2020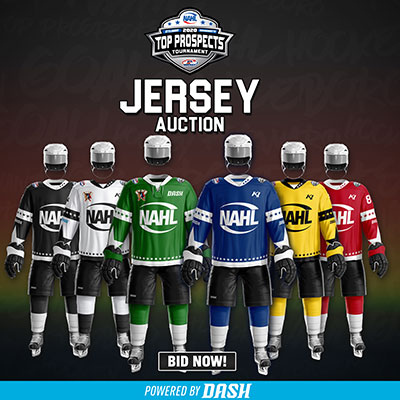 It was another day of high-scoring games, incredible plays, and a great display of talent at the 2020 NAHL Top Prospects Tournament in Attleboro, MA.
Close to 200 scouts packed the building again to witness some great action and the line-up to speak to the players following the event extended all the way down the corridors of the arena.
The Central and East Division teams both went 2-0 at the event. South Division and Amarillo Bulls forward Matt Allen led the event in scoring with five goals, while East Division goalie David Tomeo (Johnstown) did not allow a single goal during the action he saw.
If it was scoring that scouts wanted to see, that's what they got. A total of 24 goals were scored in the three games each day during the event.
Now the commitment process will ramp up for the players who attened the event. Traditionally, half of the NAHL's commitments to the NCAA each season occur following the NAHL Top Prospects Tournament.
While the players will get to keep their game-worn jerseys from the event, a duplicate set of commemorative game jerseys was created by the NAHL's official jersey supplier, K1 Sportswear, and those jerseys will be individually signed by each player at the event and then auctioned off on the DASH App.
Auction Details: The auction opened on Friday, February 14th at 12:00pm (central) and runs until Wednesday, February 19th at 2:00pm (central). The opening bid for each commemorative game jersey will be $200 and will be done in bid increments of $25.
Fans can take part in the auction by doing the following:
• Download the DASH app by texting the word 'DASH' to phone number: 66866
• Or, visit: https://web.dashapp.io/
Tuesday Game Recaps:
Selects Red 7 vs. Midwest 4 - Seven different players scored and Grant Riley (Janesville) had another solid outing in goal as the Selects Red team recorded their first win of the NAHL Top Prospects Tournament over the Midwest Division, 7-4. Midwest led 3-2 after one period of play thanks to goals from Luke Farthing (Chippewa), Jack Johnston (Fairbanks), and Logan Ritchie (Kenai River), while Caden Villegas (Springfield) and Sam Brennan (Lone Star) scored for the Selects Red squad. In the 2nd period, the Selects Red squad went ahead 4-3 as they got goals from Leo Bacallao (Springfield) and Bret Link (Fairbanks). In the 3rd period, Selects Red put the game away with three more goals, including tallies from Jonathan Panisa (Springfield), Joey Baez (Lone Star), and Isaac Novak (Janesville). Preston Weeks (Kenai River) had a 3rd period goal for the Midwest squad to make it a 7-4 final. Riley ended up making 14 saves in the win and allowing one goal, while Charlie Glockner (Amarillo) made 14 saves on 17 shots. For the Midwest team, Trent Burnham allowed three goals on 16 shots and Mattias Sholl allowed three goals on 15 shots. Boxscore
East 3 vs. Selects Blue 1 – East Division goalies David Tomeo (Johnstown) and Patrick Pugliese (New Jersey) shined again as the East picked up a 3-1 win over the Selects Blue squad and finished the Top Prospects Tournament with a 2-0 record. The East got off to a strong start with two goals in the 1st period from Bennett Stockdale (Johnstown) and Cannon Green (Maine). The Selects Blue squad made it a one-goal game in the 2nd period with a goal from Reid Leibold (Maryland). However, the East secured the two-goal win thanks to a 3rd period goal from Noah Kane (Maine). Tomeo stopped all 12 shots that came his way in the win and Pugliese made six saves, allowing just the single goal. For the Midwest, Cooper Black (Maryland) stopped 24 of 26 shots and Henry Welsch (Aberdeen) made 14 saves on 15 shots. Boxscore
Central 5 vs. South 4 – Daniel Chladek (Bismarck) scored two goals to lead the Central Division squad to a 6-4 win over South in the final game of the NAHL Top Prospects Tournament. The Central finished the event with a 2-0 record. The game was deadlocked at 2-2 through one period as Chladek and Bram Scheerer (MN Wilderness) scored in the 1st period for the Central, while Will Stromp (Lone Star) and Gleb Murtazin (Amarillo) answered for the South. The teams also traded goals in the 2nd period to make it 3-3 as TJ Irey (Bismarck) put Central ahead once again, but the fifth goal of the Tournament from Matt Allen (Amarillo) tied the game again after two periods. Chladek and Jed Pietila scored early in the 3rd period to put Central ahead 5-3, but the South closed to within a goal late from CJ Walker (Lone Star) but could not complete the comeback. Each Central goalie, Landon Pavlisin (Kenai River) and Jake Sibell (Aberdeen), made 15 saves on 17 shots. Cayden Bailey (Lone Star) made 10 saves in 12 shots, while Richie Parent (Shreveport) made 9 saves on 12 shots. Boxscore