Day 1 of NAHL Top Prospects showcases offensive talent
February 18, 2020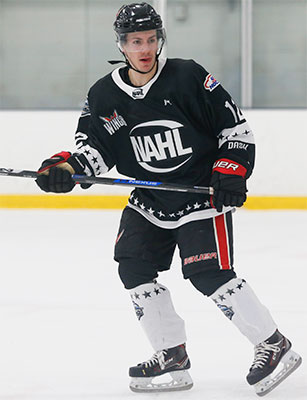 Day 1 of the NAHL Top Prospects Tournament in Attleboro, MA, featured plenty of offense as a total of 24 goals were scored in the three contests.
Day 1 also saw more than 160 NHL and NCAA scouts pack the building to get a look at some of the best uncommitted prospects the league has to offer in addition to some younger talent on the radar of NHL teams.
The 2020 North American Hockey League (NAHL) Top Prospects Tournament continues on Tuesday, February 18, 2020 at the New England Sports Village in Attleboro, Massachusetts.
All the games will be broadcast live on HockeyTV
While the players will get to keep their game-worn jerseys from the event, a duplicate set of commemorative game jerseys was created by the NAHL's official jersey supplier, K1 Sportswear, and those jerseys will be individually signed by each player at the event and then auctioned off on the DASH App.
Auction Details: The auction will open on Friday, February 14th at 12:00pm (central) and run until Wednesday, February 19th at 2:00pm (central). The opening bid for each commemorative game jersey will be $200 and will be done in bid increments of $25.
Fans can take part in the auction by doing the following:
• Download the DASH app by texting the word 'DASH' to phone number: 66866
• Or, visit: https://web.dashapp.io/
Day 1 Recaps:
South 7 vs. NAHL Selects Red 3 – It was the Matt Allen (Amarillo Bulls) show as the forward lit the lamp for four goals in the opening game of the 2020 NAHL Top Prospects Tournament as South beat the Selects Red, 7-3. After a scoreless 1st period, the South went up 2-0 in the 2nd period with goals from Allen and Michael Muschitiello (Topeka Pilots). Red Selects would respond with two goals to tie the game at 2-2 from Tim Khokhlachev (Shreveport Mudbugs) and Isaac Novak (Janesville Jets). The South would then jumped ahead by two goals early in the 3rd period as goals from Emil Gabrielson (Fairbanks Ice Dogs) and another from Allen made it 4-2. Selects Red would make it 4-3 on a goal from Brett Oberle (Minnesota Magicians), but the South would close out the game with three goals, including two more from Allen and one from Quinn Green (Topeka Pilots). South goalie Cayden Bailey (Lone Star Brahmas) stopped all 17 shots he saw, while his teammate Richie Parent (Shreveport Mudbugs) made 17 saves on 20 shots. For the Red Selects, Grant Riley (Janesville Jets) was solid stopping 19 of 20 shots, while Charlie Glockner (Amarillo Bulls) allowed six goals on 26 shots.
East 3 vs. Midwest 1 – East goalies David Tomeo (Johnstown Tomahawks) and Patrick Pugliese (New Jersey Titans) stopped a combined 29 of 30 shots in a 3-1 win for East over the Midwest in Game 2. The East got on the board first as Cam Gendron (New Jersey Titans) scored to make it 1-0. The lead for the East swelled to 2-0 as Johnny Kaljian (WBS Knights) scored early in the 2nd period. The Midwest cut into the lead less than two minutes later to make it 2-1 as Fairbanks Ice Dogs forward Jack Johnston scored. Late in the 3rd period, the East put the game on ice as Pavel Kharin (Johnstown Tomahawks) tipped home a shot from the point to make it a 3-1 final. Tomeo made 13 saves in the win, while Pugliese stopped 16 of 17 shots. Mattias Sholl (Fairbanks Ice Dogs) stopped 15 of 17 shots in the loss, while Trent Burnham (Chippewa Steel) allowed just one goal on 14 shots.
Central 6 vs. Selects Blue 4 – Connor Beatty (Aberdeen Wings) and Tyler Watkins (MN Wilderness) each scored two goals as the Central Division won a high-scoring affair over Selects Blue, 6-4. Bailey and Watkins provided the first two goals for Central midway through the 1st period. Selects Blue got a goal before the period was out from WBS Knights forward and Army recruit Lincoln Hatten to make it 2-1. In the 2nd period, Central seized control as Daniel Chladek (Bismarck Bobcats) scored to make it 3-1 and then late in the period Watkins added his second goal of the game to make it 4-1. Selects Blue tried to make things interesting in the 3rd period with three goals from Tiernan Shoudy (Austin Bruins), Dan Russell (Minot Mintauros), and Max Kouznetsov (Johnstown Tomahawks), but the Central put the game out of the reach with goals from Cole O'Connell (Minot Minotauros) and another from Beatty. Jake Sibell (Aberdeen Wings) stopped 7 of 8 shots and Landon Pavlisin (Kenai River Brown Bears) stopped 23 of 26 in the win. Henry Welsch (Aberdeen Wings) made 12 saves and Cooper Black (Maryland Black Bears) made 21 saves in the loss.