February 13, 2020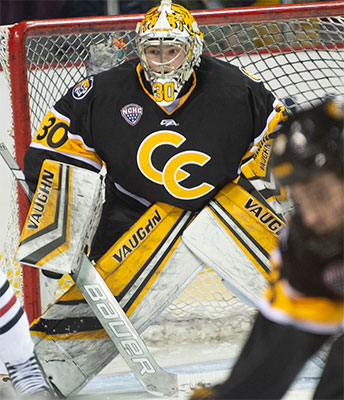 Former NAHL and Janesville Jets forward Zach Solow was named the Most Valuable Player of the Beanpot Tournament, as he led the Northeast Huskies to their third consecutive title thanks to a 5-4 overtime win on Monday night over Boston University. Solow scored goals during each of the Huskies' two Beanpot victories in the Tournament.
Atlantic Hockey Goalie of the Week: Chad Veltri, Niagara (Corpus Christi IceRays)
Veltri continued his impressive run as of late, backstopping Niagara's sweep of Mercyhurst this past weekend. On home ice, Veltri stopped all 16 shots faced to earn his first career shutout in a 3-0 win. On Saturday, the freshman made 34 saves in a 4-2 road win to sweep the season series against the Lakers. It was Veltri's second series sweep in three weeks.
NCHC Goalie of the Week: Hunter Shepard, Minnesota-Duluth (Bismarck Bobcats)
Shepard continued his strong senior season, backstopping the Bulldogs to a sweep of Omaha last weekend. He led the NCHC in both goals-against average and save percentage on the weekend, while allowing only three goals in the series. On Friday, he made 24 saves in a narrow, 3-2 victory, including 11 stops in the second period and six short-handed. A night later, he compiled 31 saves in a 4-1 victory to earn First Star of the Game, including 13 saves each of the first two periods. Shepard also earned an assist on the game-winning goal, as a highlight-reel save led to a breakaway goal. Of his 31 saves, seven came short-handed as he helped UMD's penalty kill go 3-for-3 Saturday. Shepard finished the sweep with 55 saves on 58 shots faced for a .948 save percentage and a 1.50 goals-against average in the two wins. He also made 13 of his saves short-handed as UMD's penalty kill finished the weekend 5-for-6. The assist was his first of the season. He upped his season save percentage to .915 in the series, while lowering his GAA to 2.25 and improving to 17-9-2 on the year.
NCHC Rookie of the Week: Matt Vernon, Colorado College (Aberdeen Wings)
Vernon was solid in net to help Colorado College earn two points in a pair of overtime games against St. Cloud State last weekend. He topped 30 saves both nights, including 31 on Friday in a 3-2 overtime loss. Six of his 31 saves Friday came short-handed as he helped kill off all three SCSU power plays. The next night, Vernon made 32 saves in a 2-2 overtime tie, including 13 in the second period and three in overtime, to earn First Star of the Game. He made 10 of his 32 saves short-handed as CC went 3-for-4 on the penalty kill Saturday. Vernon also stopped multiple shots in 3-on-3 overtime and made a save in the only round of the ensuing shootout to secure an extra point for the Tigers. Vernon finished with an NCHC-best 63 saves in regulation and 5-on-5 overtime in the series for a .926 save percentage and a 2.39 goals-against average, while going 0-1-1 with the loss in overtime. On the season, he is now 5-12-2, while he upped his season save percentage to .902 and lowered his season GAA to 3.45 following the series with the Huskies.
WCHA Forward of the Week: Ashton Calder, Lake Superior State (Minnesota Wilderness)
Lake Superior State sophomore Ashton Calder led the Lakers to a split at Michigan Tech weekend with a pair of two-point efforts. In Friday's win, Calder netted a shorthanded goal to put the Lakers up 2-1 in the first period and added the game-winning goal in the third period. Friday's performance marked the third time that Calder has scored two goals in a game in his career. On Saturday night, the Sault Ste. Marie, Mich., native opened the scoring for the Lakers with his ninth goal of the season and added his fourth point of the weekend with the primary assist on the game-tying goal with :45 seconds left in regulation. Calder has nine points in his last seven games, including four multi-point games. The sophomore forward currently is riding a three-game point streak as he has posted a trio of two-point games in that span (4g-2a). This is Calder's fourth career weekly honor and second of the season.
WCHA Defenseman of the Week: William Riedell, Lake Superior State (New Jersey/Austin)
Lake Superior State junior Will Riedell contributed to the Lakers' road split at Michigan Tech this weekend with a team-leading four assists. In Friday's win, Riedell notched three assists which included a helper on the game-winning goal. All of Riedell's points were primary assists and led the junior to set a new career high in single-game points. The Greensboro, N.C., native wrapped up his four-point weekend with an assist on the Lakers first goal on Saturday, which was his 100th career game as a Laker. Riedell tied for the WCHA scoring lead on the weekend with four and was the league leader in assists. He also topped all WCHA blueliners in points. Riedell has set a new career high in assists with nine this season and equaled his previous season-best in points with 11. This is his first WCHA weekly honor.
WCHA Goaltender of the Week: Dryden McKay, Minnesota State (Corpus Christi/Springfield)
Minnesota State's Dryden McKay stopped 43-of-46 shots to backstop the No. 3/3 Mavericks to a home sweep of then-No. 15/RV Northern Michigan. The Hobey Baker and Mike Richter candidate stopped all 22 shots he faced on Saturday to record his school-record and WCHA record-tying eighth shutout of the season. The whitewash was also the 12th of his brief career, which is also a school record and moves him into a tie for ninth on the WCHA career list. The Downers Grove, Ill., native is 25-3-2 with a 1.37 GAA, .939 save percentage and eight shutouts. McKay's wins, GAA and shutouts lead the nation while his save percentage ranks No. 3 nationally. This is McKay's sixth Goaltender of the Week award this season and his 12th career weekly honor (2- Rookie, 10- Goaltender).
WCHA Rookie of the Week: Markuss Komuls, Alaska-Fairbanks (Kenai River/WBS Knights)
Alaska freshman defenseman Markuss Komuls played a big role in the Nanooks come-from-behind tie at Alabama Huntsville on Friday, assisting on one goal and scoring another as Alaska rallied from a 6-4 third-period deficit to secure a 6-6 tie and, eventually, a second WCHA point with a goal in the 3-on-3 period. On Saturday, the Talsi, Latvia, native played a key role in the 'Nooks defensive performance as Alaska skated to a 3-0 win in the team's second shutout of the season. This is Komuls' first career WCHA weekly honor.
ECHL Goalie of the Week: Tomas Sholl, Idaho Steelheads (Fresno Monsters)
Tomas Sholl of the Idaho Steelheads is the Warrior Hockey ECHL Goaltender of the Week for Feb. 3-9. It is the fourth time this season, and the seventh time in his career that he has received the weekly honor. The seven weekly awards are the third most in ECHL history. Sholl went 2-0-0 with one shutout, a 0.50 goals-against against average and a save percentage of .983 in two appearances against Utah last week. The 25-year-old stopped all 24 shots he faced in a 4-0 win on?Friday and made 34 saves in a 2-1 victory on Saturday.