February 7, 2020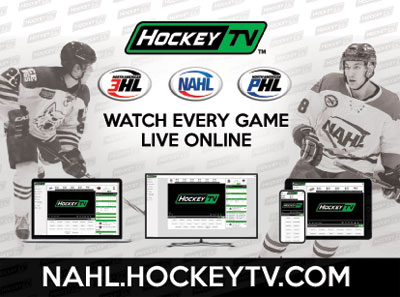 The USA Hockey trade deadline has come and gone and the roster freeze is in just a few days, so it has set the table for a full on sprint to the finish as the 2019-20 NAHL regular season rolls on this weekend with 25 games from Friday-Sunday.
The NAHL is just over a week away from the 2020 NAHL Top Prospects Tournament, which takes place from February 17-18, 2020, at the New England Sports Village in Attleboro, MA.
This past week saw more NAHL players make NCAA commitments. So far during the 2019-20 season, 179 players have made NCAA commitments, with the number sure to skyrocket following the NAHL Top Prospects Tournament.
In the Central Division this weekend, the Minot Minotauros are riding a four-game point streak and will make the trip South to take on the 1st place Aberdeen Wings with the two teams separated by eight points in the standings. The 2nd place Bismarck Bobcats put their three-game winning streak on the line this weekend as they host the Minnesota Wilderness. The Austin Bruins and St. Cloud Blizzard will battle in a home-and-home series, which includes Austin Pink in the Rink game on Saturday.
In the East, New Jersey looks to become the first team in the division to clinch a playoff spot as they host Maryland for a pair of games. The Northeast Generals put their three-game winning streak on the line as they host the 2nd place Johnstown Tomahawks. The final series has the Wilkes-Barre/Scranton Knights in Jamestown to take on the Rebels, who are just six points out of the final playoff spot. Maine is idle.
In the Midwest, things got started last night with Janesville beating Kenai River and the Minnesota Magicians beating the Chippewa Steel, each by a 4-3 score. The Magicians and Chippewa have two more home-and-home games this weekend, while the Jets host the Brown Bears two more times. The Springfield Jr. Blues are stepping outside of the division to take on the Shreveport Mudbugs from the South. Fairbanks is idle this weekend.
In the South Division, all seven teams are in action. The 1st place Amarillo Bulls put their five-game winning streak on the line as they host the 3rd place Topeka Pilots, who are closing in on a playoff spot. The Lone Star Brahmas put their 11-game winning streak on the line this weekend as they host the Odessa Jackalopes for three games. New Mexico is in Corpus Christi for games on Friday and Sunday as the IceRays look to snap a 15-game slide. Shreveport will host Springfield.
FRI, FEBRUARY 7
Johnstown at Northeast - 7:00 PM EST
Wilkes-Barre/Scranton at Jamestown - 7:05 PM EST
Maryland at New Jersey - 7:30 PM EST
Topeka at Amarillo - 7:05 PM CST
New Mexico at Corpus Christi - 7:05 PM CST
Kenai River at Janesville - 7:05 PM CST
Springfield at Shreveport - 7:11 PM CST
Minot at Aberdeen - 7:15 PM CST
MN Wilderness at Bismarck - 7:15 PM CST
Chippewa at MN Magicians - 7:15 PM CST
Odessa at Lone Star - 7:30 PM CST
SAT, FEBRUARY 8
Maryland at New Jersey - 7:00 PM EST
Johnstown at Northeast - 7:00 PM EST
Wilkes-Barre/Scranton at Jamestown - 7:05 PM EST
Topeka at Amarillo - 7:05 PM CST
St. Cloud at Austin - 7:05 PM CST
Kenai River at Janesville - 7:05 PM CST
MN Magicians at Chippewa - 7:10 PM CST
Springfield at Shreveport - 7:11 PM CST
Minot at Aberdeen - 7:15 PM CST
MN Wilderness at Bismarck - 7:15 PM CST
Odessa at Lone Star - 7:30 PM CST
SUN, FEBRUARY 9
Odessa at Lone Star - 2:10 PM CST
New Mexico at Corpus Christi - 3:05 PM CST
Austin at St. Cloud - 5:10 PM CST