Ice Dogs increase streak with win on Thursday over Brown Bears
January 31, 2020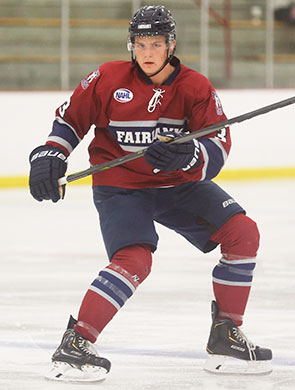 Kenai River 2 @ Fairbanks 7 – The Ice Dogs jumped out to a 4-0 lead in the 1st period and never looked back as they cruised to a 7-2 home win over in-state rival Kenai River on Thursday. Seven different players scored for Fairbanks in the win.
The Ice Dogs scored early and often in the 1st period, which included goals from Lucas Erickson, Matt Koethe, Andrew Garby, and Barak Braslavski. After the fourth goal, the Brown Bears pulled starting goalie Danny Fraga after 11 saves and inserted Landon Pavlisin.
The 2nd period began just like the 1st period did, with the Ice Dogs scoring as Mason Plante netted his 11th goal of the season to make it 5-0. The Brown Bears got on the board midway through the period on a tally from Jack Quinn, but Fairbanks responded with a goal from Oliver Kjaer to make it 6-1 at the end of two periods.
Each team scored once in the 3rd period with Max Helgeson scoring for Kenai River and Parker Brown answering for Fairbanks to make it a 7-2 final.
Mattias Sholl made 25 saves in the win, while Pavlisin made 19 saves in his 42 minutes of action.