January 29, 2020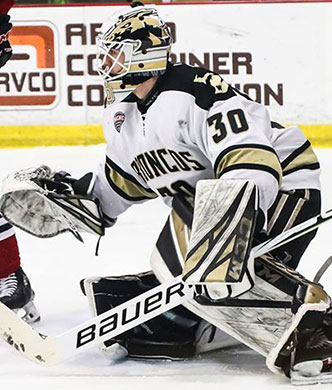 ECHL Player of the Week: Mike Szmatula, Adirondack (Traverse City North Stars)
Mike Szmatula of the Adirondack Thunder is the Inglasco ECHL Player of the Week for Jan. 20-26. It is the second time in his career that he has received the weekly honor. Szmatula scored two goals and added six assists for eight points in three games last week. The 27-year-old had a goal and an assist in a 5-3 win against Brampton on Friday, added a goal and two assists in a 7-4 victory over the Beast on Saturday and notched three assists in a 6-0 win at Worcester on Sunday. A native of Commerce Township, Michigan, Szmatula has 38 points (17g-21a) in 39 games with the Thunder this season.
ECAC Rookie of the Week: Tanner Palocsik, Dartmouth (Amarillo Bulls)
Palocsik registered his sixth multi-point outing of the season against Cornell on Friday, which included his first collegiate goal. He now ranks third among ECAC Hockey freshman in scoring (first among defenseman), and third among all blue-liners. Palocsik also leads the nation in rookie scoring by a defenseman, averaging 0.75 points per-game.
Hockey East Player of the Week: Mike Robinson, New Hampshire (Springfield Jr. Blues)
Mike Robinson allowed just one goal over two games as the Wildcats took three of four league points from #7 UMass that ranked ninth nationally with 3.50 goals per game entering the series. He made 57 saves on 58 shots faced for a .983 save percentage and a 0.48 goals against average. Robinson posted his second shutout of the season and the seventh of his career with 31 saves as the Wildcats won 1-0 at the Mullins Center on Friday, while he recorded 26 saves on Saturday in the 1-1 tie at the Whittemore Center. Robinson has a .910 save percentage and a 2.34 goals against average this season.
NCHC Goalie of the Week: Brandon Bussi, Western Michigan (Amarillo/New Jersey)
Bussi continued his strong freshman season, backstopping Western Michigan to a sweep of St. Cloud State, his and the team's second straight sweep. He compiled 44 saves in the pair of 6-2 wins over the Huskies, while he was the lone NCHC goalie to earn two wins last weekend. In Friday's opener, Bussie turned aside 19 shots to get the win, making two short-handed saves to help kill both SCSU power plays. The next night, he totaled 25 stops and earned Second Star of the Game. He made four more short-handed saves Saturday to help kill all four Husky man advantages in the win. Bussi ended the sweep with a .917 save percentage and a 2.00 goals-against average in the two wins. He also helped WMU finish a perfect 6-for-6 on the penalty kill. With the results, he improved to 11-9-3 on the season, starting all but one game this season, while lowering his GAA to 2.73 on the season and slightly upping his save percentage to .909 on the year.
WCHA Rookie of the Week: AJ Vanderbeck, Northern Michigan (Lone Star Brahmas)
Northern Michigan forward AJ Vanderbeck continues to make his presence known on the offensive front, leading the Wildcats in points with five as they went 1-0-1 at Alaska. After two assists in Friday's tie, Vanderbeck came out Saturday with a career-high three points on a goal and two assists, including his first career game-winning goal. The Monument, Colo., native led NMU and the league in points with five while his four assists were also a conference best. With four assists and five points his tally ranked first and second in the nation, respectively, over the weekend. Having only played six conference games thus far, his nine points ranks ninth among all league rookies and his 1.50 points per game is a WCHA best. This is Vanderbeck's first WCHA weekly honor.