January 22, 2020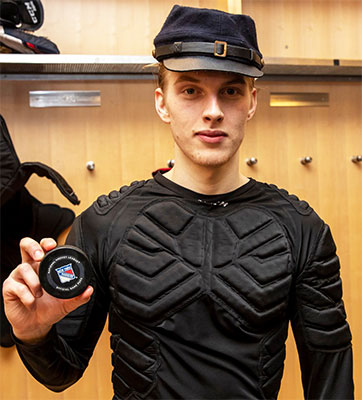 Former NAHL goaltender Matiss Kivlenieks (Coulee Region Chill, 2015-16) started and won his NHL debut on Sunday as the Columbus Blue Jackets defeated the New York Rangers at Madison Square Garden. Kivlenieks, who played in the 2016 NAHL Top Prospects Tournament, stopped 31 of 32 Rangers shots and got the win in the Blue Jackets' come-from-behind 2-1 victory.
Afterward, he could hardly process the moment. "Honestly, I still can't believe it happened," he said. "I'll probably realize it tomorrow or something. It's always been a dream. It's obviously hard to even get a game, plus to win the first game you've ever played … but I think the guys played really good in front of me tonight, and at the end there were some really good blocks and we scored a couple of huge goals. I'm just really happy I won the game."
The game capped what has been a long and winding road for Kivlenieks since he moved from Latvia to Minnesota at the age of 17 to chase his dream. After two years of playing Tier III junior hockey, Kivlenieks turned some heads and earned a chance to jump up to the NAHL in 2015-16 with the Coulee Region Chill. During that season in the NAHL, he posted a 16-10-1 record with a 2.41 goals against average and a .925 save percentage, which ranked 5th in the league. He also committed to Minnesota State that season, but decided to sign with the Blue Jackets a year later.
Atlantic Hockey Player of the Week: Brandon Koch, Air Force (Coulee Region Chill)
Brandon Koch had the best weekend in his young career with four points in a pair of wins over Niagara. His 2.00 points per game average was the best of any player in the league last week and his plus-3 rating was tied for second-best. Koch had three points in Friday's game, assisting on the first two goals of the game before putting the Falcons ahead 3-2 with his only goal of the game. Then, on Saturday, he forced a turnover in the neutral zone and fed an assist on the game-winning goal late in the second period.
Atlantic Hockey Defensive Player of the Week: Sean Giles, Robert Morris (Lone Star Brahmas)
Sean Giles was part of the blue-line contingent that led Robert Morris to two wins in three games against Mercyhurst last week. He totaled four points in the three games, on a goal and three assists, while also leading the league with 13 blocks. Giles had a pair of assists and blocked seven shots in the Colonials' 4-1 win on Tuesday night, halting RMU's eight-game winless streak. He then had a goal and an assist on Saturday, adding another four blocks, in a 5-1 victory.
Atlantic Hockey Rookie of the Week: Blake Bride, Air Force (Odessa/MN Wilderness)
Blake Bride tied for the lead amongst rookie skaters with two goals in Air Force's weekend sweep of Niagara. They were the first two goals of his collegiate career and couldn't have come at a better time for the Falcons. He scored Air Force's second goal, putting the Falcons up 2-1in a game they would go on to win 4-3. Then, on Saturday, he scored the game's first goal and gave Air Force a lead they would never relinquish.
ECAC Rookie of the Week: Nick Abruzzese, Harvard (New Jersey Titans)
Abruzzese registered a three-point weekend (2G, 1A), extending his lead over NCAA freshman in points per-game (1.24). He tallied an assist in a 3-1 win over St. Lawrence on Friday, before finding the back of the net twice in a 5-3 loss against Clarkson on Saturday. The rookie has been on a tear of late, having registered six goals and 12 points in his last nine games.
ECAC Goalie of the Week: Corbin Kaczperski, Yale (Lone Star Brahmas)
Kaczperski earns his third Goalie of the Week selection of the season after allowing just one goal in a pair of league wins this weekend. The senior stopped all 21 shots he faced in a 5-0 shutout of Union on Friday, before sending aside 27 of 28 in a 4-1 win over RPI the following night. He finished the weekend with a 0.50 GAA and .980 save percentage.
Hockey East Defensive Player of the Week: Tomas Vomacka, UConn (Corpus Christi IceRays)
Tomas Vomacka picked up a pair of wins for the Huskies this week. On Wednesday, Vomacka stopped 37 shots and kept the Maine off the scoreboard in the second and third periods in a 3-2 win, including 16 saves in the third period alone. On Saturday, he turned away 35 shots as the Huskies posted a 3-2 overtime win at #12 Northeastern.
NCHC Forward of the Week: Casey Gilling, Miami (Minnesota Wilderness)
Gilling produced the best weekend of his career against then-No. 1 North Dakota, as he had a hand in six of Miami's seven goals in a tie and loss to UND last weekend. In Friday's 4-4 overtime tie, Gilling racked up a career-high four points, tallying two goals for his second career multi-goal game, while he also added two assists. He helped put Miami in front 2-0 with the game's first goal only 1:03 into the game and an assist 26 ticks later. His second goal made it 3-1 MU, while he had the primary assist on the game-tying power play goal in the closing minutes of regulation to force overtime. Gilling was +2 Friday and named First Star of the Game.
NCHC Rookie of the Week: Isaiah Saville, Nebraska-Omaha (Minnesota Magicians)
Saville had a monster weekend to backstop Omaha to a pair of home ties against then-No. 4 Denver, after UNO had gone 0-15-1 in the 16 prior meetings with the Pioneers. He allowed only three goals all weekend, including only two even strength. In Friday's 1-1 overtime tie, Saville stopped 27 shots, including four short-handed, to help kill all three DU power plays. He then stopped four attempts in the ensuing shootout, before DU won in the fifth round. The next night, the Golden Knights draft pick made a career-high 45 saves in a 2-2 overtime draw. Saville made nine saves short-handed Saturday to help kill off four-of-five Denver power plays, with one of DU's two goals coming a man up, as the Mavericks were outshot, 47-13. Saville finished with an NCHC-best 72 saves on the weekend on 75 shots faced for a .960 save percentage and a 1.39 goals-against average in the two ties.
WCHA Defenseman of the Week: Riese Zmolek, Minnesota State (Austin Bruins)
Minnesota State's Riese Zmolek registered two points on a goal and an assist in No. 3/3 Minnesota State's two-game road sweep at No. 15/15 Bowling Green over the weekend. The Rochester, Minn., native picked up his second goal of the season to cap off the Mavericks' four-goal second-period outburst on Friday evening then assisted on the game-tying goal late in the third period on Saturday as MSU rallied from a 2-0 deficit to skate off with a 3-2 overtime win to complete the sweep.
WCHA Goaltender of the Week: Zach Driscoll, Bemidji State (Austin Bruins)
Bemidji State junior Zach Driscoll turned aside 46 of the 48 shots he faced against Michigan Tech on the weekend. The Apple Valley, Minn., native led BSU to a 4-1 victory Friday and a 1-1 overtime draw Saturday as BSU went on to score in the 3-on-3 overtime period to win the series by taking five-of-six points from the Huskies. Driscoll backstopped a penalty-kill unit that was 7-for-8 on the weekend. He finished the weekend 1-0-1 with a 0.96 GAA and .958 save percentage to lead the league in GAA and rank second in save percentage.