Lone Star forward Baez makes NCAA commitment
January 21, 2020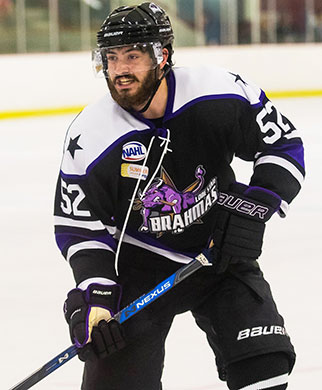 The Lone Star Brahmas of the North American Hockey League (NAHL) are pleased to announce that forward Joey Baez has committed to play NCAA Division 1 hockey for Army in Atlantic Hockey.
Baez, 20, is in his final season of playing junior hockey for the Brahmas. The 5'9/174 lbs. native of Tampa, Florida, currently leads the Brahmas in scoring this season with 44 points (26 goals, 18 assists) in 40 games played.
Baez's 26 goals currently leads the NAHL.
"Joey has put in a lot of time into his game this season to be a 200-foot-player. This effort has improved his game defensively and that is every bit as important as his presence on offense. This is also a great pickup for the Black Knights because of the character of this commit. It translates to his person and leadership as well as his game," said Brahmas head coach Dan Wildfong.
Baez has quickly become a fan favorite in Brahma Land. He is a leader on and off the ice, often participating in school visits, charitable functions, as well as working with members of the Junior Brahmas. Lone Star Brahmas Owner and President Frank Trazzera spoke to this notion about the Brahmas Alternate Captain. "First and foremost Joey is a strong leader because he is always a positive influence to all of his teammates as well as all of Brahma Land. Our team and our entire league needs more guys like Joey Baez," said Trazzera.
Before playing for the Brahmas, Baez spent a season and a half with the Johnstown Tomahawks before being traded to Lone Star after eight games into the 2018-19 season. In 122 career NAHL games, Baez has recorded 78 points.
Baez will be honoring his family by committing to the Army. The Baez family has a deep and rich history in the armed forces. He will join current teammate Eric Huss with the Black Knights at the conclusion of the 2020-21 NAHL season.
Click here for an updated NAHL to NCAA commitment list