Brahmas, Bailey blank Shreveport on Monday, 2-0
January 20, 2020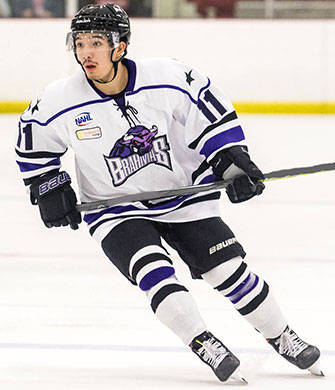 Shreveport 0 @ Lone Star 2 - The Lone Star Brahmas and Shreveport Mudbugs met Monday afternoon in the only game scheduled in NAHL on Martin Luther King Day. The Brahmas took a 1-0 lead midway through the 1st period as Sam Brennan fired a low shot off the pads of Mudbugs goalie Richie Parent and Eric Huss swooped in and put home and rebound.
The 2nd period went scoreless with both teams having good chances.
In the 3rd period, Brahmas goalie Cayden Bailey was the star, turning away several Mudbugs chances. An empty-net goal from Matt Guerra secured the win at the 19:46 mark.
Shreveport outshot Lone Star 24-20 on the afternoon. Neither team was able to take advantage with the Brahmas going 0-5 and the Mudbugs 0-3.
With the 24 saves Bailey picked up his second shutout in as many games and seventh of the season to take a share of the NAHL lead. He also strengthened his league lead in goals against averaging dropping to a 1.35 goals against average. Parent made 18 saves in the loss.