January 15, 2020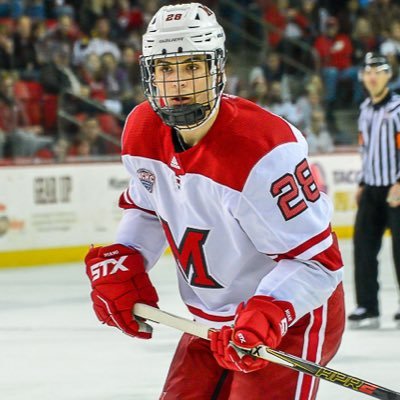 Atlantic Hockey Player of the Week: Michael Wilson, Army (MN Magicians/Coulee Region)
Michael Wilson had a strong weekend for Army as the Black Knights took 5-of-6 points over rival Air Force. He scored a goal and tallied an assist in both contests for four points while finishing plus-2 on the weekend. Both of his points in Friday's game came in the third period, first on a power-play goal with Army trailing 2-1, and then on the extra-attacker, game-tying goal in the final minute with the Black Knights trailing 3-2. On Saturday, he again factored in on special teams, scoring a shorthanded goal this time.
Atlantic Hockey Rookie of the Week: Patrick Dawson, Sacred Heart (Odessa/Lone Star)
Patrick Dawson had his first three-point game at Sacred Heart, registering three assists in Saturday's convincing victory. Two of his three assists came at opportune times for the Pioneers as he set up Austin McIlmurray for the game's first goal and then Vito Bavaro for the game-winning goal. Dawson registered five blocks, leading all rookies and tying for sixth in the league, while also finishing with a plus-3 rating.
B1G Second Star: Roman Ahcan, Wisconsin (Brookings Blizzard)
Ahcan led the conference with three points on a trio of goals in Wisconsin's weekend split against No. 8/7 Ohio State. He netted the then-tying goal on Friday to give him a +1 rating on the night and then recorded the second two-goal game of his career on Saturday to guide the Badgers to a 5-2 victory. This is his first career weekly honor
NCHC Goalie of the Week: Hunter Shepard, Minnesota Duluth (Bismarck Bobcats)
Shepard repeated as Goalie of the Week after leading the NCHC in saves last weekend, while backstopping Minnesota Duluth to a win and tie against Western Michigan by making his two highest save totals of the season. On Friday, he stopped 35 shots in a 6-3 victory, including 17 in the second period. Eight of those saves came short-handed, as he helped UMD go 4-for-5 on the penalty kill. The next night, Shepard compiled a season-high 41 saves in a 3-3 overtime tie, including 17 short-handed saves to kill off all five Bronco power plays. He also made one stop in the ensuing shootout and was named Third Star of the Game Saturday. Shepard ended the weekend with 76 saves on 82 shots faced for a .927 save percentage, tops among NCHC goalies who started both games last weekend. Of his 76 saves, 25 came short-handed as UMD went 9-for-10 on the penalty kill in the series. Shepard posted a 1-0-1 record with a 2.88 goals-against average against WMU, as well. On the season, he is now 12-6-2 with a .909 save percentage and a 2.35 GAA, to go along with two shutouts.
NCHC Rookie of the Week: Chase Pletzke, Miami (Lone Star Brahmas)
Pletzke had a breakout weekend to help Miami earn a road split at Colorado College, totaling four points with two each night, to tie for the NCHC scoring lead on the weekend. The two points each night tied a career high and marked his second and third multi-point games. In Friday's 6-1 victory, he had the primary assist on Miami's second goal, which served as the game-winner, while scoring the RedHawks' fourth goal of the game in the second period. He fired four shots on goal and finished the game +2 to earn Third Star of the Game honors on Friday. On Saturday, Pletzke dished out the primary assist on both of Miami's goals in a 4-2 defeat. He helped the RedHawks rally to within one at 3-2 after trailing 3-0, with his second helper coming on the power play. Pletzke finished the series with a goal, three primary assists, four shots on goal and a +2 plus/minus. On the season, he leads all Miami freshmen with 11 points (5g, 6a), 10 of which have come in his past nine games.
NCHC Forward of Week: Troy Conzo, Colorado College (Wenatchee Wild)
Conzo compiled a three-point weekend to help Colorado College earn a split with Miami last weekend. In the series opener on Friday, he handed out the primary assist on CC's lone goal in a 6-1 defeat, and finished the game +1. The next night, he tallied two goals, including the game-winner, to lead the Tigers to a 4-2 victory. The two goals tied a career high, his third multi-goal game, but first this season. Both his goals came in the first period, scoring the game's first goal only 2:22 into the contest and adding the game-winner late in the frame to stake CC to a 3-0 lead. He fired three shots on goal and was +1 Saturday, while earning First Star of the Game. Conzo finished the series with two goals, an assist, three shots on goal and a +2 plus/minus. He also went 12-13 (.480) in the faceoff circle. Conzo tripled his goal total on the season, as he now has three goals and five points in seven games this season, after missing much of the first two months.
SPHL Player of the Week: Jake Kupsky, Pensacola (Lone Star Brahmas)
The Southern Professional Hockey League (SPHL) announced that rookie goaltender Jake Kupsky of the Pensacola Ice Flyers was named the Warrior Hockey/SPHL Player of the Week for January 6-12. Kupsky went 1-0-1 with a 0.99 goals against average, a .966 save percentage and one shutout as the Ice Flyers picked up three points in their weekend series against Evansville. Kupsky also contributed to the Pensacola offense, recording two assists. Currently on loan to the ECHL's Idaho Steelheads, Kupsky leads all SPHL netminders with a 1.78 goals against average and is second with a save percentage of 0.935 as he holds an 8-1-1 record for Pensacola.
Former NAHL and Fresno Monsters goaltender
Tomas Sholl
has earned his first AHL call-up, joining the Texas Stars (
read
)