Bulls, Mudbugs complete three-game sweeps on Sunday
January 13, 2020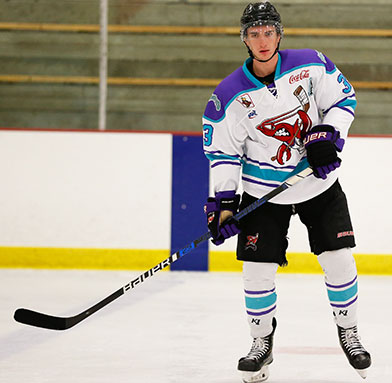 Odessa 1 @ Amarillo 7
- The Amarillo Bulls flew past the Odessa Jackalopes with a 7-1 victory as they took over 1st place in the South Division standings on Sunday afternoon. Noah Carlin wasted little time in scoring his seventh of the season, when he wristed a shot into the back of the net just 1:17 into the opening period. With under a minute to go in the frame, Carlin would find the back of the net for the second time, this time on the powerplay, to give Amarillo the 2-0 lead. Amarillo was hungry to grow its lead as mid-way through the second period, Ty Black scored his eight of the year on a powerplay chance. Later, the Bulls would go shorthanded but would not be phased, as Jordan Venegoni scored shorthanded for his 2oth tally of the season. Venegoni would follow-up his 20th goal with his 21st just a few minutes later during even strength hockey. The Bulls weren't done scoring, as Devan Tongue would lift his ninth goal of the year into the back of the net on a late powerplay opportunity. Late in the third period, the Bulls would take the 7-0 lead when Niclas Puikkonen netted a loose puck for his eighth of the season. The Jackalopes would score a late powerplay goal from Jack Rudin, but it would come as no threat to the Bulls' victory. Charlie Glockner would stop 15 of the 16 shots that he faced to earn his 13th victory on the season.
Boxscore
Shreveport 8 @ Corpus Christi 0
- The Shreveport Mudbugs scored seven goals in a span of 9:43, to hand the Corpus Christi IceRays their worst loss of the season, 8-0, which completed a three-game weekend road sweep for the Mudbugs on Sunday. Jacob Smith scored twice for the Mudbugs and Maiszon Balboa recorded a 16-save shutout. After a scoreless 1st period, the Mudbugs put the game away with seven goals in the 2nd period, which included goals from Aidan Metcalfe, Tim Khokhlachev, Conor Witherspoon, Billy Feczko, Anton Rubtsov and two from Smith. Matt Weber would then add a goal in the 3rd period. Shreveport finished 12-0 against the IceRays this season. Cal Sanquist made 16 saves in the loss.
Boxscore