Bruins stay hot with 5-1 win on Thursday
January 9, 2020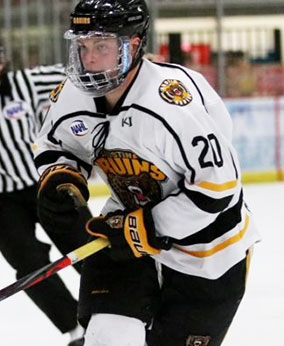 Austin 5 @ St. Cloud 1 - The Austin Bruins stretched their point-streak to eight straight games with a commanding victory over the St. Cloud Blizzard in the lone NAHL game on Thursday night, 5-1.
Fresh off his second-consecutive Central Division Player of the Week award, Dante Sheriff got the Bruins on the board first in the opening period for a 1-0 lead. With the goal, Sheriff's tenth goal of the season, the Mercyhurst commit rose to eighth in the NAHL in scoring, but he wasn't done there. Later in the opening frame, Sheriff sped through the offensive zone and fed a backhand pass across the crease to Barrett Brooks who roofed the puck for the 2-0 Bruins lead. Controlling the pace of play, the Bruins continued their strong opening period as Jaden Shields second goal of the season, a backhand pass through the slot that ricocheted off a Blizzard defender and into the net, gave Austin a 3-0 lead.
The start of the second began with St. Cloud putting Sam Metcalf in net in replace of Tyler Bost, and the Bruins wasted no time scoring on the fresh goalie. Dante Sheriff scored his second goal of the game when he tucked the puck through the legs of Metcalf giving the Bruins a 4-0 lead midway through the second. St. Cloud began to tighten up in the middle period and with less than two minutes to go in the second, scored their first and only goal of the night when Ryan O'Neill scored from the slot on the power play sending the teams to their respective locker rooms with Austin in front 4-1.
In the third, Austin added their fifth tally when Hugh Larkin propelled a knuckleball past Metcalf giving the Bruins the 5-1 lead. Austin's defense played lights-out in the third only allowing two shots on goal throughout the duration of the frame.
Austin goalie Brett Miller made 12 saves in the win, while Bost took the loss with 10 saves.